Sunday night, Cincinnati State's Midwest Culinary Institute and Cincinnati Magazine held an event called 1 Night, 12 Kitchens. It produced 2 full bellies! (Thanks to Cincinnati Magazine for the tickets!)
First we wandered around the teaching kitchens and saw lots of area chefs cooking up delightful foods. Along with that – lots of people chatting, drinking and having a great time.
There were also a few tables of silent auction items. Proceeds from the auction and the tickets went to the scholarship fund for the Culinary Institute.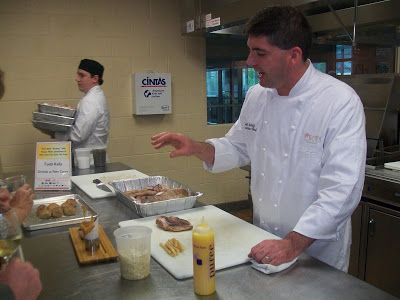 Here is Todd Kelly from Orchids at the Palm informing us what he's preparing for the rest of the night!
Somewhere in that first kitchen I got this Tuna Carpaccio. It was pretty good – the cracker was dry – so the half without toppings – not so good.
Here's the group from Riverside Korean. They were making up their Soba Noodles with Kimchee, Cucumbers & Boiled Egg for the main tasting. I had it later – it was okay – the noodles were cold and the kimchee was strong. Not my favorite…
And there was lots of wine…lots and lots and LOTS of wine! Here are the "Boys from Beringer" pouring away!
I also found Chef Jean-Robert de Cavel being interviewed – I'm guessing it was for something at the school. Obviously the crowd around him for the evening was massive. If you are unfamiliar – he used to be the chef from Pigalls (now Local 127) and is now with Cincinnati State and the Culinary Institute and soon to be opening a new place downtown.
Next up I found a guy after my own heart – he had tins full of salt! I love salt… It was De Stewart from Herbs & Spice & Everything Nice in Findlay Market. There were mild salts all the way to this one "kick you in the teeth" bourbon salt that stuck around until I swigged more chardonnay. It was very tasty and fun too! If you have a spice question – he is THE MAN!
Now for my favorite moment of the night! I promised Larry I wouldn't geek out and try to talk to every chef for 20 minutes – so I said, "Just let me talk to Chef Romy Jung." – and the deal was made!
Here he is – I was able to snag him for a few minutes and share my love for his food. He's been at the Palace, Vito's and now Aroma in Kenwood. Everywhere he goes – I follow – and I always get the same dish! (Which is very unlike me!) It's this amazing orchiette pasta with a lamb ragout and goat cheese. I LOVE IT! I OBSESS OVER IT! I WANT TO ROLL IN IT!
So yes – I got to talk to Chef Romy and thank him for his wonderful dish that I love. I did introduce myself and then I said that I have gone to each of his chef stops just to get that dish! And then he said it – wait for it – wait for it – he said,
"I know – I read it in your blog."
Wow – I know – I'm a dork but I'm fine with that. I completely geeked out and after shaking his hand again and blushing I'm sure – I drug Larry away to a corner and exclaimed, "HE READ MY BLOG!"
Larry was not nearly as enthusiastic as I was – but I didn't care. A chef who makes a dish I crave read my blog. Wheeee!
At that point – the official tasting stations opened and we began our devouring of food!
Aroma offered up Pheasant & Chestnut Soup. I thought the items in the right were dumplings maybe but no – it was actual pheasant "meatballs" is the best way to describe it. Very good! And the broth was thick and delicious – very rich for a broth. Definitely a winner!
Okay – I feel bad – I can't remember who's table this was – maybe the Palace? It's hard to get two servings, take pictures and eat while holding my purse, souvenier wine glass and program! This was a salad with fresh mozzerella, mushrooms, sun dried tomatoes and pine nuts – really great. Very light and nice start to the evening.
Here's another definite must-revisit! Jean Phillipe makes amazing chocolates! These were amazing – I tried a dark chocolate with white chocolate ganache. Wowza!
A new one to me was eat well – it's a catering company in Newport. They served up some delicious Two bite Lamb Burgers with harissa & feta on homemade silver dollar rolls. Very tasty and I truly appreciated the ability to hold & eat this. Not everybody was so thoughtful of the predicament the guests were in!
Next door was the booth for Jeff Ruby's. I haven't been a big fan – but this might have changed my mind. They served up Chili-rubbed short ribs with pickled cipollinis and roasted shisito peppers. These little bites of delight seriously melted in your mouth. I should have gotten 2 because sharing was not in my vocabulary at that moment…but I did. Seriously – is that on their menu? Wow! This one gets my vote for "best meat dish of the night".
They also win the "favorite utensil of the night" award. It's even better than a spork!
Another place that isn't typically my favorite did surprise me! Jag's served a Chimichurri Prime Flank Steak over Microgreen Herbs with Jalapeno-Tomatillo Vinaigrette and Smoked Moody Blue Cheese. (No – I didn't remember all these ingredients – I took photos of the signs.)
This was really great – there were all kinds of great sauces and then when you got a bitefull of it all together – heaven in your mouth! Larry even liked the avocado (he typically grimaces at guacamole!).
I've only been to Hugo once but I definitely need to add it to the list to go back. Chef Sean Daly prepared Roast Sirloin with Celery Root Puree & Cabernet Tomato Jam & Snow Pea Salad. As we were eating I told Larry the "mashed potato" was actually celery and he was amazed! This was one of my favorites as well – on par with Jag's.
For "surprise of the night" – we had to give it to Via Vite. Chef Cristian Pietoso served up Tuscan Fava Beans with fresh pecorino cheese & croutons. I didn't think I'd like it and I SURE didn't think Larry would! I mean – vegetarian??? We both loved it! The fava beans were really good – especially when combined with the cheese and croutons.
Next up – Mitchell's Fish Market with one of the few fish dishes of the night (of course they'd have fish!). Chefs Jon Corcoran & Will Wadsworth created a miso-glazed pacific halibut with shrimp & shitake mushroom dumplings in ginger. This was really nice – very light – so it was a nice contrast to all the heavy beef dishes. Definitely something I'd love to order…and the dumplings were so good.
One I was a little surprised to see was Barresi's from Deer Park! Chef Sarah Wagner pleasantly had a mid-evening dessert waiting for us of Italian profiteroles with cappucino hazelnut gelato. The pastry was a little frozen and the chocolate on the plate was solid – but it was tasty. Maybe just tough to execute for this setting (I've seen enough episodes of Top Chef to know that!)
We swung by the table for the Polo Grille and Chef Thom Milliken. They had Wasabi sesame tuna salad with red slaw & crispy wontons. I took one bite and moved on – just didn't wow me in any way and I wanted to save room for others…
Because I already uploaded this picture – I'm going to be lazy and not redo it. How's that? This is Chef Edward Lee who was in from Louisville for the event. He had a seminar beforehand and was the guest chef at Friday night's preview dinner. I have no recollection of what I ate from his table – but it was damn good.
The Certified Angus Beef folks were there and had Ribeye 2 ways – I loved the larger piece – very tender and juicy.
And seriously – about like that night – I'm starting to pass out from this blog! There was just so much food and so much to take in. It was stimulus overload!!!!!
Another of my favorites in the city is the Brown Dog Cafe. It's in a strip mall but it's delicious and very "fancy" – so make sure you stop next time a special occasion rolls around. This tortellini was almost more of a lasagna and a bit salty (is that cuz of the rabbit?) but as mentioned earlier – I love salt. It was really good – very comforting! A lot of flavors that I'd like to try it again and enjoy them more…but I definitely slowed down on this one to enjoy it.
Chef Paul Barraco of 20 Brix in Milford came up with the "surprise of the night" runner-up. The "hush puppy" in the middle was the surprise. I sort of expected a hush puppy – but instead the inside had a sort of cheesy risotto (apparently sweetpea parmesan arancini). The dish was Spice braised beef cheeks with sweetpea parmesan arancini and roasted carrot sauce.
In actuality the overall dish was okay – not a favorite – but interesting for sure!
"Best dessert of the night that I got a picture of" goes to the Palace. Cheesecake, gelato, berries, caramel – how can you go wrong????
For "favorite meat dish I didn't get a picture of" – we have to give that to Cumin! We met Chef Owen's girlfriend earlier (Happy Birthday Chef!) so I had to stop by the booth. I have to say – this chicken leg was delicious! It definitely nudged me to make a stop by their restaurant very very soon!
I also stopped at the Rue Dumaine table and there were these three plates of one-bite samples. I tried a couple but I just wasn't too excited. Then Chef Anne Kearney gave me a sample of what was basically lamb bacon. Now that was good!
And finally – my "favorite dessert of the night" and also the "dammit why didn't i take a picture?" award goes to…KROGER! Yeah – Kroger – who knew? The cake was AMAZING!!!!!
By this point I was far too stuffed for any more meat but wow – that cake hit the spot. It was light with this big fluffy stuff on top – and wow – delicious! The chef was from the Harpers Ferry location and said that he sells it there in individual sizes – so if you live out that way – stop and get some!
So there you have it – 1 Night, 12 Kitchens, 2 Full Bellies and 1 tired blogger!
Thanks again to Cincinnati Magazine! And don't forget to visit The Summit which is the restaurant that the Culinary School runs at Cincinnati State.