A few months back I won two separate contests online and ended up with $125 in gift certificates from McCormick & Schmicks! Being the foodie that I am – I was calculating how many free lunches I could have with these GCs…but then I remembered…the holidays are coming. So I decided to save them up and use them for a nice family dinner with me, Larry, Mom & sis!
M&S is a seafood restaurant. They have fresh catch every day and have special menu items based on that. This means their menu varies from day-to-day and from location-to-location – but you know it's fresh!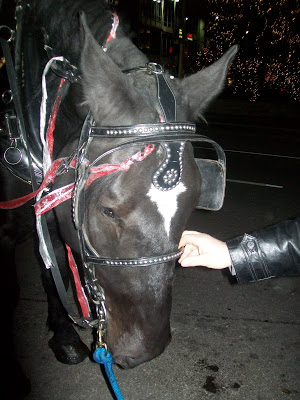 M&S is right across from Fountain Square and there is a huge line of carriages ready to take you around the downtown ($35 for 25 minutes). This was Coby – very pretty and a big boy! There was one carriage that looked just like Cinderella's…they also have big down blankets to keep everyone warm.
My sister – well – she'd been with family for a solid week now. She decided she needed a margarita – she is 21 now…
Now for the comedic portion of the meal – we told the waiter that Larry's allergic to eggs. We made sure what he ordered had no eggs…all good. Waiter brings out the salad ($3.95) in this lovely bowl. We all oooh and ahhh over it. Waiter leaves. 5 seconds later – waiter comes dashing back like OJ in a Hertz commercial to stop Larry from eating the salad. Turns out the "bowl" has eggs in it.
He said, "I didn't want to kill you right after Christmas!" What a good waiter.
We also got some bread…warm crispy rolls with soft butter. So delicious. These were very good!
And thank God we had them – since it took about 40 minutes for our entrees to arrive from the time the bread & salad came. I mean it was a busy night but 40 minutes is ridiculous. The server was seen running from table to table – would have been nice if he'd brought us more bread or something. This really put a damper on the experience. But…finally…sustenance arrives!
We were all trying to stay under $30 each for all food since we had $125 in GCs. I chose basically a "you pick 2" kind of option. For $19.99 you could choose from swordfish, crab cakes, tilapia, shrimp and salmon. You could also do 3 for $24.95.
I chose swordfish and crab cake – the dish came with a side of green beans. So how was it?
Swordfish – really great – it's a very "meaty" fish – almost like chicken. It was delicious – I wish I'd just gotten their Swordfish entree after tasting one bite. Loved it!
Crab cake – it was a very nice crab cake. M&S is a seafood restaurant after all. They provided tartar sauce – which seemed a bit odd – I'm used to a special crab cake sauce but the cake didn't need any sauce – it was good on its own.
Green Beans – meh – not quite cooked enough and no seasoning. The grilled tomato was a nice touch though…
Mom got the steak & shrimp combo with a 6 oz. filet for $29.95 (pushing her $30 limit already!). She raved about every bite. The shrimp are stuffed and were very good. The mashed potatoes were flavorful. The steak – well she didn't let me have a bite that night – but there was a bit leftover and I took it for lunch. Even cold – 2 days later – delish! Also – she got it medium rare and it was cooked perfectly!
Larry wanted to get steak. But me being the foodie and knowing this is a seafood restaurant – I made him get fish. Poor guy – can't even order on his own! He ended up with the special for the day – Atlantic Salmon stuffed with blue crab, bay shrimp & brie for $26.95. He didn't know what Brie was but I assured him he wouldn't mind it. It was an excellent dish – the beans were bland as with mine – but the fish was delicious. We really couldn't even taste any brie…so it must be a small amount in there. Either way – really great piece of fish. They do seafood very well!
Just another picture of his fish – I couldn't decide which looked better so you get both.
My sister – well she doesn't like fish. ???? She got Blackened Chicken Linguini for $13.95 and asked for it light on the spice. She loved it – ate most of it and gobbled up the leftovers the next day. It looked really great and I did try a bite of the chicken – juicy, tender – very good. She was far under budget – so we all got dessert!
Before we get to dessert – the you pick two that I got also allows you to add a side (since there's no "starch" with it) for $3.95. I chose the macaroni and cheese. I barely took a bite I was so full from the rest of the meal and tasting everybody else's I guess. I took it home and had it for lunch – even better heated up a couple days later!
Now for dessert. A few years back I went to an M&S in California and had an amazing White Chocolate Bread Pudding. I tweeted with M&S before this visit in hopes of having that again…but the recipe couldn't be found so no luck. But kudos to the M&S twitter for trying!
All the desserts were $4.95 – which is a good price. I got pineapple upside down cake with Graeters vanilla. It was good but not great. Wish the cake had been warm…then it would have been excellent. The plate was warm…thus the melting ice cream…but the cake wasn't.
Mom got carrot cake – I thought it was dry from my taste but the frosting made up for it. She loved it and thought the coconut was a fantastic addition.
Sis is a sucker for a big fat chocolate cupcake. We saw the dessert tray walk by earlier in the meal and she knew that's what she was getting. She liked it a lot and was surprised it wasn't dry – she was very pleased!
Every damn dessert has eggs – of course. Larry got lemon sorbet ($3.95) and man was it lemony! But he ate every last bite…so yeah for having something he could eat!
I'm going to recap here – overall the food was great. Nothing was amazing and OMG I must have that again…but it was all really great (except for those damn beans). The service – while attentive for the most part was slow. The wait time really dampened the overall experience and was what we remembered at the end of the night. Our 6pm reservation didn't get us out the door until 9pm. That's a long darned dinner.
I'm adding something from the Metromix reviews…Why Should You Go? They know how to do seafood – the catch is fresh and they do a great job. It's expensive but far more affordable and better tasting than the now-defunct Oceanaire. I know they have lunch specials under $10 – so I say – if nothing else – hit them up for lunch sometime! Their daily menu is also always online under the Cincinnati location.
So Happy New Year to all from the Food Hussy and her family – hope you all enjoy the New Year and I can't wait to share more culinary adventures with you for 2010!