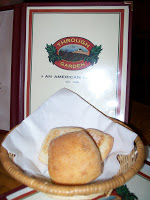 In the past week – I decided to venture out to some local spots…sadly I didn't really like either of them.
I went to Through the Garden in Blue Ash and Allyns in Columbia Tusculum.
Let's go through Allyn's first…
I was hungry and had just danced my butt off in my hip hop class then decided I needed lunch so my buddy and I went to Allyn's.
(side note – if you click on the pictures you can see them full size – much more of a yum factor)
I went for the Next-Mex Chicken Burrito. The "Next Mex" menu is lower fat…now they don't tell you how much lower or what's lower but I figured no matter what – it was a smarter choice. The burrito was pretty good. The chicken is "pulled" vs. fajita – which I like. Something was spicy – not sure if it was the salsa or the chicken but I did like it. The sides were all bad. The beans were both really undercooked. The black beans had a little flavor but the refried had none. The rice was the worst. It was terrible – bland rice is bad enough – this actually had a bad taste. So I guess if you get the mexican menu – see if you can get a salad or soup instead of the beans/rice.
My buddy ordered the chicken sandwich…he enjoyed the sandwich. He said it was pretty darned good. The fries – he didn't care for.
The one other item to note about Allyn's is the decor – it's very quirky. There's a sign that says "Beware of Pick Pockets and Loose Women" – my friend insisted I was one of those (I've never picked a pocket in my life). I would have taken a picture but there was a child sitting in front of the sign and that would have been inappropriate. They have lots of loud colors (which I like) and lots of cork art.
Allyn's also has a pretty large Wine Shop! If you're looking for a bottle for the next special occasion – stop by. They have a wall of wine and a cabinet of hot sauces for sale. They also have their own bottled variety.
Overall – I didn't really like my food, friend said his was okay. The decor is quirky. I don't know – it just isn't a place I really want to go back to. I'd rather go to Terry's or Kona or RuThais.
Next up I tried Through the Garden. I came across this restaurant on Kenwood Rd because of Restaurant.com. I got one of the $25 gift certificates (off $35). This was just an utter disappointment across the board. First I had Chicken Tortilla soup – bland, unappealing and flavorless.

Friend had the smothered ribeye – smothered because it's a cheap cut of meat. Sides were veges and mashed potatoes. The veges were undercooked and extremely bland. The potatoes were "fine".

I had the crab cakes with veges and roasted potatoes. The crab cakes came with this bad sauce – it was I guess sort of buttery and mustardy – I'm no ingredient namer – but it wasn't good. The cakes themselves definitely came from canned crab and weren't impressive. The veges again – undercooked. The roasted potatoes were fine – crying for seasoning – but not as bad as the crab cakes.

We were so disappointed in our meal we didn't even bother trying dessert. I mean wilty lettuce that has nothing to do with the entree and a dried up lemon wedge – ugh – it says it all. My friend said I should have a sign that says "WWGD" for What Would Gordon Do? Gordon Ramsey would have a hey day with this place!
I do hear that Through the Garden is more of a lunch place and I can see that. It's got a good location and I'm sure that if we'd all gotten sandwiches – we'd have a different view. BUT if they're a lunch place – they should stick with that!
www.allynscafe.net
3538 Columbia Pkwy
Cincinnati, OH 45226
(513) 871-5779
www.throughthegarden.com
10738 Kenwood Rd
Cincinnati, OH 45242
(513) 791-2199