My good friend Scott got a postcard offering a 2 for $20 special – it was an appetizer, 2 entrees (from a selected list) and 2 mini-desserts…we thought – what a deal!!! I was just surprised at the spot – Johnny Carinos at Voice Of America Park. Mainly I was surprised because Scott is one of the most anti-chain people and he hates the 'burbs! But off we went!
The entire "special" is based off of a limited menu – which is to be expected. Something odd at the moment is that the website lists it as unlimited soup or salad whereas the postcard we had and the menu we received said a free appetizer. We'd have rather had the soup or salad. The appetizer choices were fried mozzerella, italian nachos, calamari and bruschetta. We chose the bruschetta: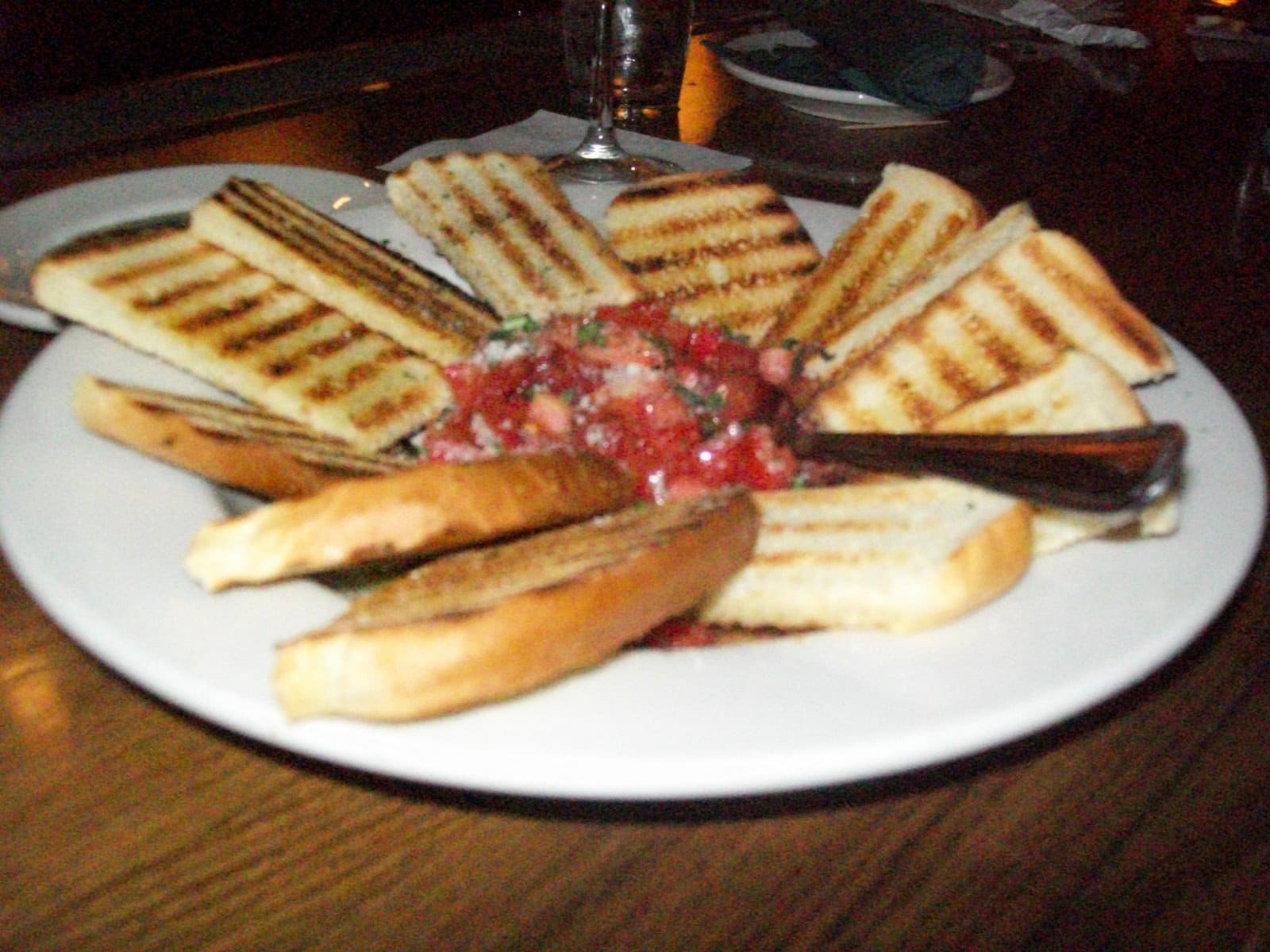 Two words – BUH-LAND! This was bruschetta that was in desperate desperate need of seasoning!!!! The grilled bread was fine…dry…but the tomato mixture was just not that good. It was chopped up bland tomatoes with olive oil and a little chopped basil. This needed garlic and salt!!!
So, next up, the entrees. There were quite a few options for this. I chose the Bowtie Festival. It was basically bowtie carbonara – there was chicken, bacon, cream sauce, tomatoes and bowtie pasta. It was good. I thought the pasta was a teenie tiny bit gummy.

The portion size was great and it was tasty. I took 1/2 home…and it didn't heat up so well. Not a surprise with any alfredo type of sauce. It just heats up as oil rather than cream. But at the restaurant – it was a great dish.
Scott got the Skilletini – which was spaghetti with marinara, peppers and onions as well as your choice of chicken, shrimp, sausage or a combo choice of 2. I was a little jealous of his – it was really really good! He got shrimp and sausage and we both loved it (we shared).

Click on the pic above – Scott covered his in about a pound of cheese so we mixed it up a bit so you could see more than cheese and skillet! I really liked his better – I thought it was great!
We saved a little room knowing we had our mini-desserts coming! There were 3 options: cheesecake, chocolate cake or tiramisu. I hate tiramisu – just don't like coffee so I don't like it…so Scott gave into me and let us get cake and cheesecake.

The mini-desserts came in little espresso cups and were about 4 bites each – which was perfect for a quick sweet fix! The cake was pretty good as far as cake goes – nuts and thick frosting. The cheesecake was also good – and had real cherries (not the cherry pie filling you get most places). Neither was earth shattering – but a nice end to a nice meal.
A couple other pluses to mention:
* the bread – as I mentioned in my Restaurant Rant bread is important. They brought bread out and a plate with olive oil and it was really good. It's crusty bread that's really soft inside – good bread! Woohoo!
* the service – we sat at the bar because the table wait was 25 minutes (expected on a Friday night at 630). The bartender Annie was great – she was on top of everything and was great!
So – Johnny Carinos final verdict? A Winner!
I mean – all that for $20 – it's a great deal and the food was good. It wasn't amazing or stunning – but it was good. And for $20 – it's hard to beat!
All in all 3 stars for the deal…2.5 without it.
7691 Voice of America Center Drive
West Chester, OH513/779-6700 ph
www.carinos.com