We're now moved in and pretty much settled and have been discovering the take-out of our new 'hood. Why? I haven't figured out how to grocery shop apparently. Ugh – too much stuff to do and not enough time!
I drive by
Pit to Plate
every day on my way to and from work – I have long heard about Pit and got my first taste of them at the
Taste of the NFL
a few weeks back. So on the way home from work one day – I decided to grab some to-go for Larry and I.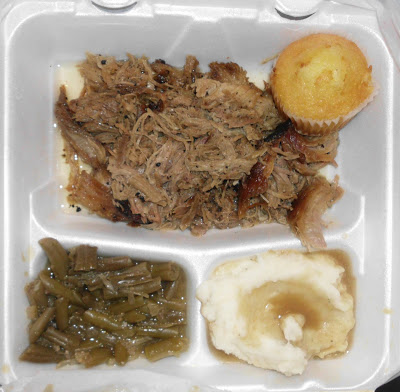 Pulled chicken, (sauce on the side – can't see it), corn muffin, green beans, taters & gravy for Larry!
For me, pulled pork, cole slaw, baked beans and corn muffins.
So how did Pit to Plate fare? Really well – first of all $7.95 each – for all that!!! Yeah – great value for the $$. The cole slaw was creamy and had a little zing to it. The beans – sweet, saucy and a little spicy. The pork was juicy and the sauce is really great. The corn muffins – BEST EVER!!
Seriously – I just want a dozen of those corn muffins!!
Also – they get HIGH marks for customer service – those girls are the friendliest, happiest bunch ever!
Next up is Big Arts – it's only a couple minutes away – so it's just as close as PTP. I mentioned to someone I liked PTP and they told me I HAD to try Big Arts…so off I went.
I got the same thing – pulled pork dinner to go. It came with two sides and a roll for $9.99. The pork was fine but it was much dryer and the sauce was more bitter. The green beans were also bitter and bleh. But the worst were the roll and the potato – DRY DRY DRY. There was no butter, no sour cream, no nothing. MMMMM – who doesn't want a dry ass roll AND a dry ass baked potato!!
To me – if I'm getting it to-go, they should at least ASK if I need anything. They weren't very friendly either – on the phone or when I went to pick up my order.
Thus – in the Pulled Pork Faceoff – the clear winner is
PIT TO PLATE
!!!
Why Should You Go?
Cheaper, tastier and friendlier!!!!