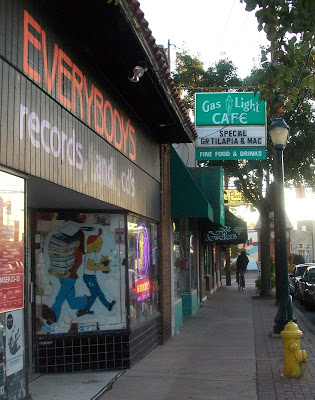 Larry had never been – we tried to go one night but they were having a bad night service-wise and we headed to Molly Malones instead. Gas Light is on Montgomery Rd and right across the street from Molly's.
They don't have a website – so here's a quick peek at their menu…pretty basic stuff. They have waffle fries though – woohoo!
The decor has a lot of old pictures – quite a few of Pete Rose. They also have these old booths with mirrors – they're definitely original to the place. There we are – anticipating our dinner…
Larry wasn't hungry since he'd eaten not too long before this – so he only got vegetable soup. I'm pretty sure it was canned.
I got a bacon cheeseburger and waffle fries. The fries – great as always. The burger – well it was burned and not very good. Like really not good. So the Cincinnati Magazine folks definitely must have had a better burger than this one!
Why Should You Go? Well – it's an institution in Pleasant Ridge – so if you live there – you should most definitely go. It's a decent pub burger – and the waffle fries are great. I really like the tuna melt too. The bar staff is pretty friendly and it's definitely a neighborhood hangout. I think Quatman's is far better for a burger…but I still have a special place in my belly/heart for Gas Light.