So for nearly two years I've been doing this "ABC's of Dining" in Cincinnati and working through the alphabet having you vote on where I should go. It's taken a lot longer than I thought – but it's not always easy to go to a specific place on a schedule…that said – I finally got to the letter T! (Poll for Letter U is at the bottom!)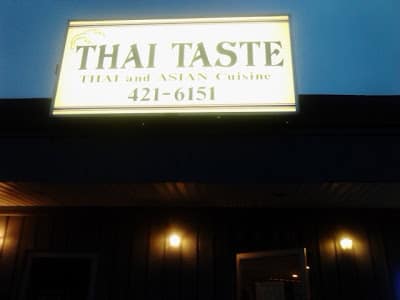 Thai Taste
in Cheviot was the winner for the letter T – it sounds like it's one of the only Thai places on that side of town – but with a 94% "like" rating on Urbanspoon – it must be pretty good too.
It's definitely hidden on a little side street (Crookshank) that I couldn't get back to if I tried!
There were 5 of us and everybody else got Thai food and they all thought it was pretty good. I had rice the night before so I decided to go for sushi. No recollection of the rolls I got – they all kind of run together – I think there was shrimp tempura (left) and a dragon roll maybe (bottom right).
Why Should You Go? If you live on the West side and are hankerin' for some Thai – this is a great option. It's small and hidden but the service is great, the food is good and the prices aren't too bad either. They used to be BYOB but they now have their liquor license – so don't bring your own!
The poll tool isn't working right on the left – so leave me a comment about where I should go for the letter U – there aren't a lot of choices:
Uncle Yips – Sharonville

Uncle T's – Owensville

Union Centre Pancake – West Chester

US Chili – Price Hill
Thanks for helping me out!