My fiance is a Colts fan. Die-hard. Through and through. People actually mistake him for Peyton Manning. Seriously – it's happened more than once. So for the Superbowl we had to go all out for the Colts. Larry even wanted to watch the game in Indiana – with REAL Colts fans.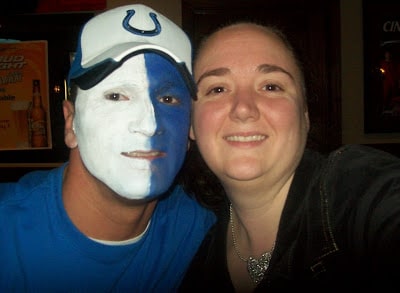 FYI – you can buy face paint of any color at Party Source in Bellevue, KY. So he painted his face and off we headed down River Road to get to the great state of Indiana! We didn't really know where to go – just figured we'd find something.
We ended up heading to Lawrenceburg, IN and found Willie's. There are a few Willie's in the Cincinnati area (Covington & Kenwood among others) so it was somewhat familiar. At least I knew it was a sports bar and that was all we needed. This one is a bit odd because it's inside the Hidden Valley Lake development and seems like it might be private – but it's not – it's a public open-to-all establishment.
We were mainly there for the game but did get the Buffalo Chicken Cheese dip and I have to say – it was amazing! It was oooey gooey and delicious! There was ranch in it too – we ate the whole thing and were well into it before thinking about the ranch and Larry's allergy – doh! But we were okay…
The chips were just so-so – but the flavor and spicy of the dip made up for it. They were the thick cheap chips…
At halftime we decided to head back to Ohio and found Smitty's Lounge in the Cleves. It's a "dive" but was really a fun time. There were a few tv's, pool table and some snacks. It was much more laid back and a nice time – even though the Colts fell apart when we got there!
All in all – didn't get much of an opinion of Willie's. It's a big sports bar and grill. The dip was good, the game wasn't. We definitely enjoyed Smitty's the staff was very friendly and the owner's son was hanging out with us watching the game.