My fiance lived out in what I like to call – BFE – for many years and sometimes we like to go back and visit just for the heck of it. So off to Felicity we went! (I'm not really making fun – I'm from a BFE of my own – West Liberty, IA.)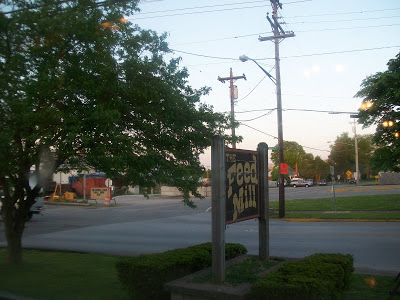 There's not much in the way of restaurants but we did hit up The Feed Mill. It has quite a history but unfortunately I didn't write it down from the menu. Larry said it's been there forever. The inside is very quaint and the staff very friendly.
I started with a Sweet Tea and a side salad. This was a great side salad for this type of restaurant – radishes, cucumbers, etc… – something besides just iceberg lettuce! Yeah! And the ranch was good.
Larry got the steak hoagie and waffle fries – really really good stuff. That hoagie was delish! I might start ordering those things.
I got the pork tenderloin, home fries and mac & cheese. It was okay – being from Iowa – I thought the tenderloin would be breaded. The home fries – as you can tell – had NO seasoning on them and basically no flavor. The mac & cheese was okay but pretty mushy.
After a good dinner, we decided to stay awhile and stopped into Susi Q's down the street on Market.
We hit the pool table and played a few games with some locals…won a few, lost a few.
And we met Susi herself – she was a wonderful person to chat with. She's owned the bar for a couple of years and is pretty darned happy with it. She was very friendly as were the regulars that we encountered. And we even bumped into some old classmates of Larry's…
A good time for a Friday night!
Why Should You Go? Well Felicity doesn't offer up much for choices, but The Feed Mill gave us a good filling meal for a great price. I think the bill was under $20!