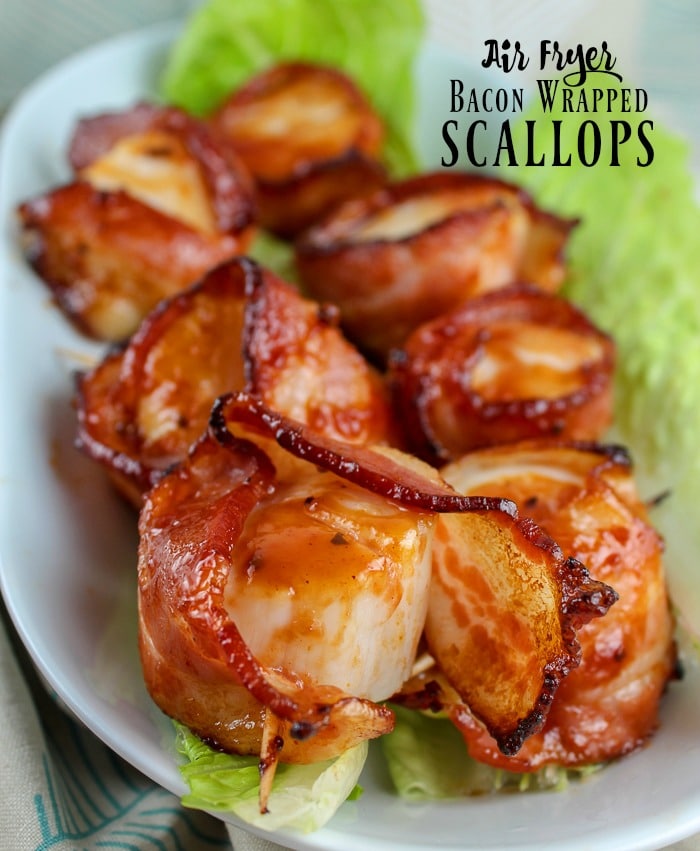 Scallops wrapped in bacon?! Is there any more to say? This air fryer bacon wrapped scallops recipe is fantastic as an appetizer or a main course! And the best part is they are done in minutes!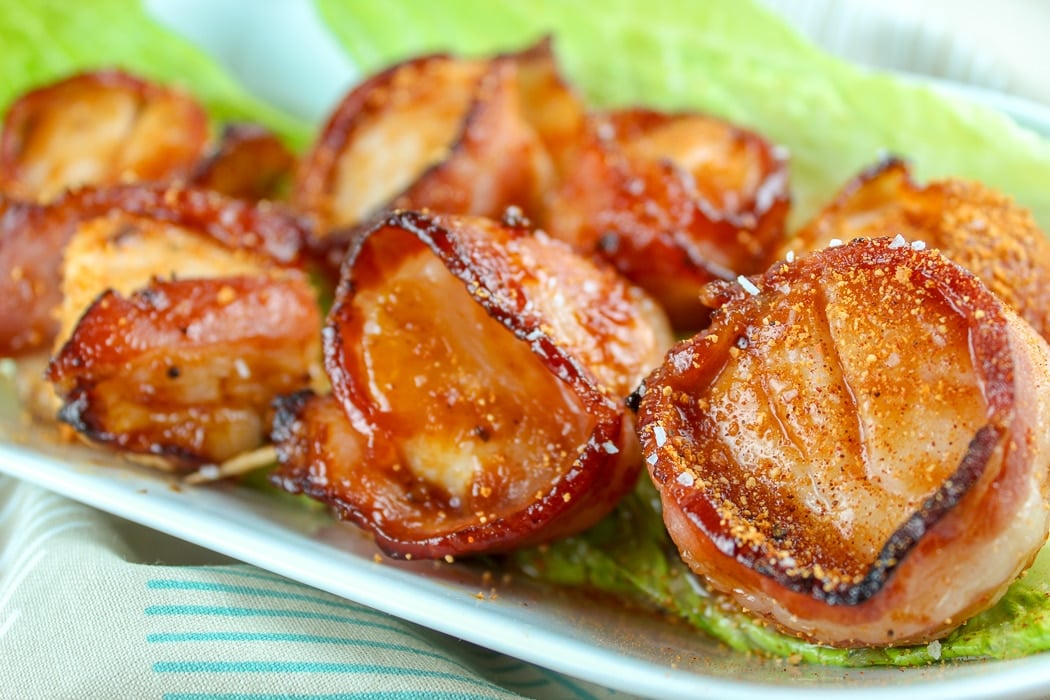 This is the PERFECT fast weeknight dish! Scallops are done quickly – and the crisp golden bacon just adds so much flavor – your friends and family will ask for these all the time! I love to add a little barbecue flavor for fun! Let me tell you how…
Jump to Recipe
Ingredients for bacon wrapped scallops
This simple recipe only has three ingredients:
Sea scallops – be sure to get SEA scallops – these are the BIG ones! Also – see below for info on the little piece of the scallop you need to remove! Fresh scallops are hard to find – so frozen are fine. Just let them thaw in the fridge overnight.
Bacon – thin cut bacon is preferred for this recipe as the scallops cook quickly
Sauce and Seasoning – If you leave these plain – they'll be good but you might have dry scallops – I like to add sauce & seasoning to them. Here are some options:

BBQ – I think this makes the best scallops! Sprinkle on Historic BBQ Red seasoning and baste with Williamson Bros. BBQ Sauce – trust me on this! This is sweet and spicy – so delicious!
SWEET – you could sprinkle on brown sugar and a drizzle of maple syrup.
SPICY – sprinkle with black pepper and brush lightly with sriracha mayo!
ITALIAN – sprinkle with garlic powder, oregano and parmesan cheese and serve with melted butter
TRADITIONAL – Sprinkle on some Old Bay seasoning and a squirt of lemon juice
What's the difference between sea and bay scallops?
Large Sea scallops are easy to spot! They are usually 1 1/2-2″ across and much thicker. They are caught year-round up to in deep, cold sea waters. There are about 20-30 sea scallops per pound.
Smaller Bay scallops are only about 1/2″ in diameter and are caught in cold, shallow waters and bays (thus the name). There are about 50 to 100 small scallops per pound.
How do I make air fryer bacon-wrapped scallops?
Making scallops in the air fryer is super simple! They actually cook very quickly no matter what you do – and you don't want to overcook them or they'll be rubbery. They take about 10 minutes in the air fryer when wrapped in bacon. They come out so perfectly!
Rinse your thawed raw scallops, remove the side muscles (see FAQ section) and pat dry with a paper towel
You need to par cook your bacon. Slice each piece of bacon in half and pre-cooked it for 3 minutes at 400. It will still be pliable enough to wrap around your scallop.

If you have jumbo scallops, you might need a whole slice of bacon for each scallop.
Bacon takes longer than the scallops – so when you cook bacon a little – it helps the bacon & scallops get done evenly so you don't have rubbery scallops! And it's 100% necessary if you want a more crispy bacon.

Remove bacon from air fryer to a paper towel to absorb any excess oil and let cool for a minute or two.
Wrap each scallop in a half slice of bacon. Secure the bacon with a toothpick.
Place scallops in a single layer in your air fryer basket!
I always place a pita or slice of bread under the basket when I'm making bacon to soak up some of the bacon grease. (And then eat it of course!)
Brush on a very light barbecue sauce – my favorite is Williamson Brothers. I found them on a trip to Atlanta and it's my favorite! It's not very thick and has a lot of seasonings and flavor!
You can also sprinkle a little BBQ seasoning on them – I like Historic BBQ Red.
Air fry for 10 minutes – turning halfway thru.
Tips, Tricks & FAQs
How long will scallops last in the refrigerator?
I would use them within 1-2 days of purchase.
How do you choose scallops?
I typically use frozen scallops since I live in Ohio. If you do choose fresh they should be firm and smell fresh.
Can I air fry scallops from frozen?
I wouldn't recommend it. You can quick thaw scallops by placing them in a bowl of cool water for about 30 minutes. They should be fairly thawed out by then. Or leave them in the fridge overnight.
How many scallops can you cook at once in the air fryer?
It depends on how big your air fryer is. Just make sure you've got 1/2 inch of space between your scallops.
How do you know when cooked scallops are done?
Use your meat thermometer – they should be between 120-130 degrees in the center. They won't really brown like they do in a skillet – just fyi.
Can you reheat scallops?
Yes – but they don't take long and don't microwave them. Put them back in the air fryer tray to heat them up for 2-3 minutes at 400.
What do scallops taste like?
They're sweet like crab or shrimp but more but the texture is softer than shrimp.
Do scallops have a side muscle I need to remove?
Yes – on the sea scallops, there's a little side muscle – you can barely see it in this pic. The best way to remove this muscle is to hold it in your hand and delicately pull it off. It comes off very easily but be sure to remove as they're tough and chewy.
What to serve with Bacon Wrapped Scallops
This scallop recipe can be your entree and would be even better with these delicious side dishes:
More Delicious Seafood Recipes
Favorite Air Fryer Appetizer Recipes
If you're looking for other easy air fryer recipes – I have tons! You can see them on my Air Fryer Facebook Group. Here's a few of my favorites!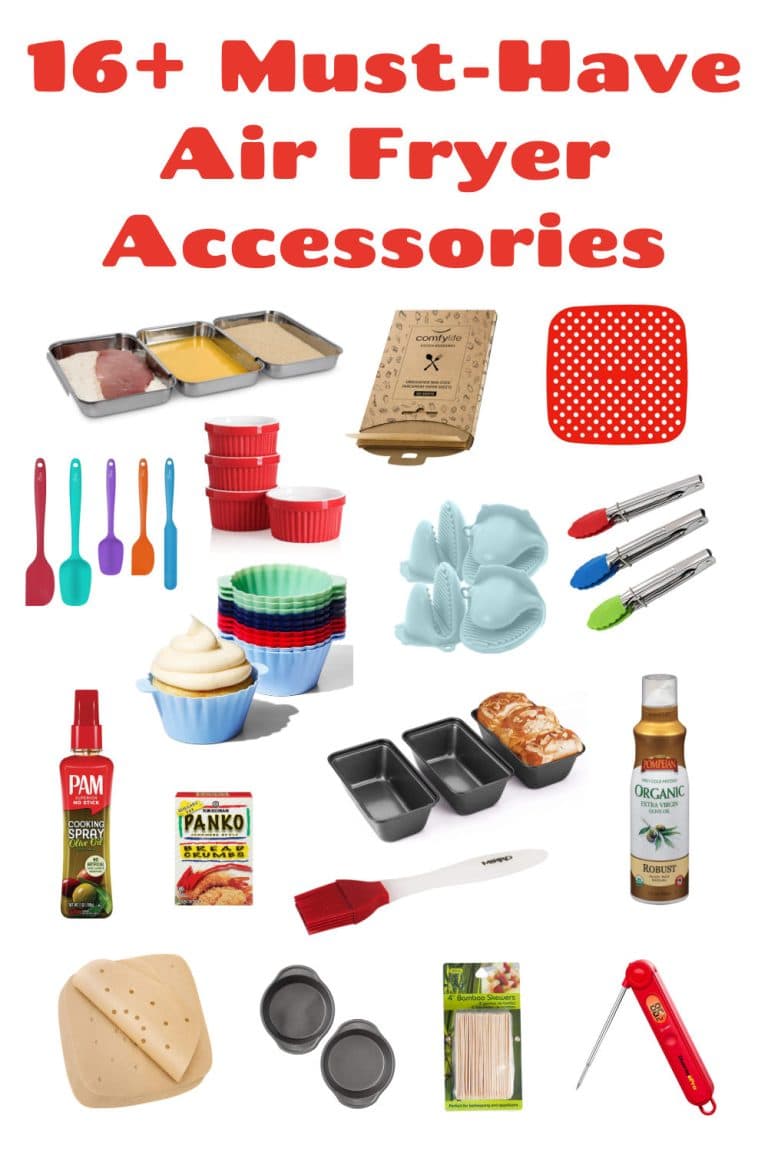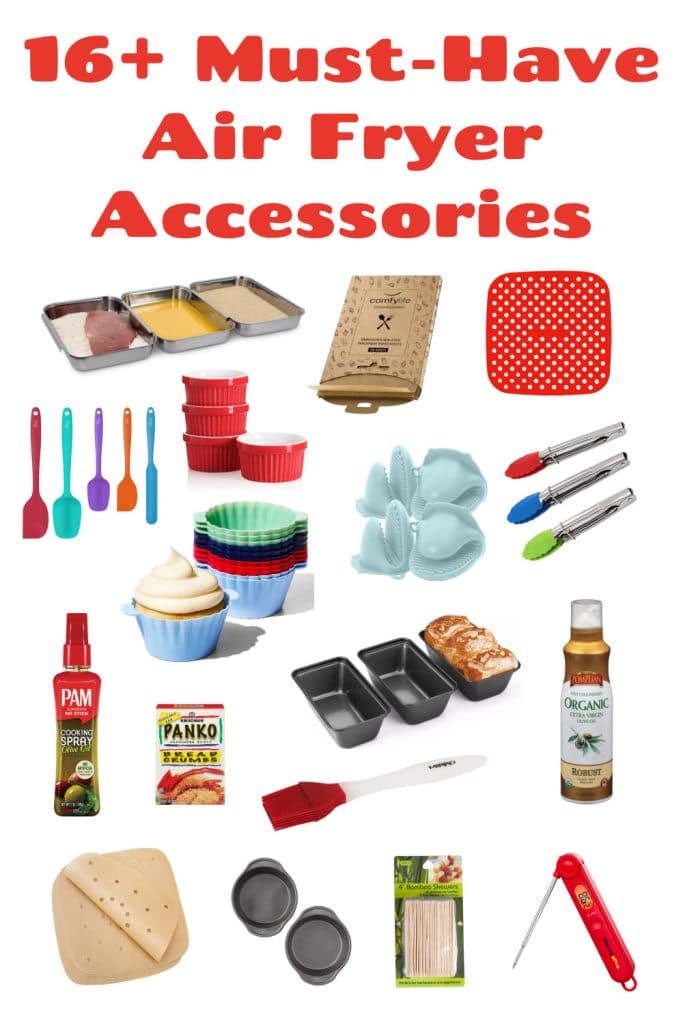 Best Air Fryer Accessories
Here's my ultimate list of best air fryer accessories – whether you have a basket- or oven-style! I've also included a price guide as well as my favorite recipes for those accessories.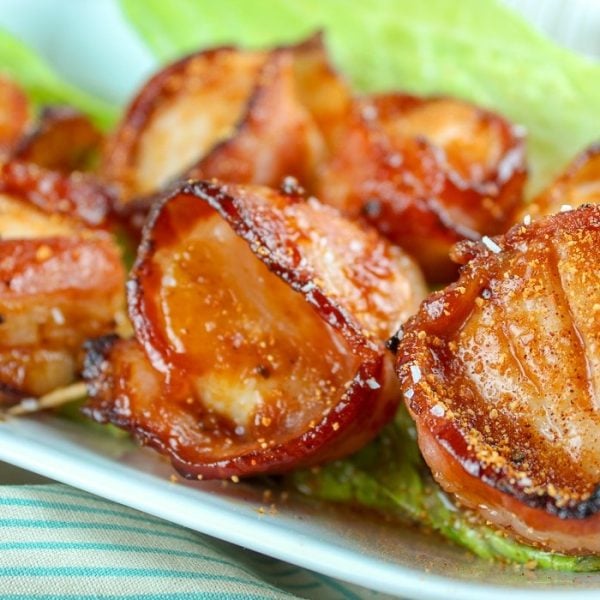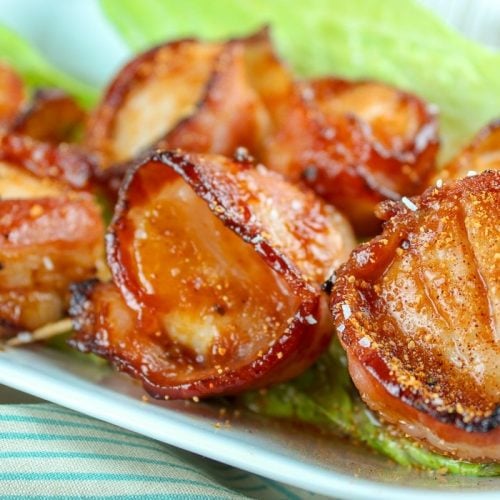 Air Fryer Bacon Wrapped Scallops
Scallops wrapped in bacon – is there any more to say? Pop them in the air fryer and they're done in minutes! Perfect for an appetizer or a main dish served with veggies!
Instructions
Slice bacon in half and place the bacon in the air fryer to partially cook at 400 for 3 minutes.

Pat the scallops dry with paper towels to remove any moisture.

Wrap each scallop in 1/2 slice of bacon and secure it with a toothpick.

8 slices center cut bacon

Place scallops in air fryer (I can fit 8 at a time in my basket style air fryer)

Lightly brush scallop with your favorite barbecue sauce. I recommend a thinner sauce – not a heavy thick sauce. You can also just spray with olive oil and salt/pepper.

Cook at 400 for 5 minutes. Turn scallops delicately and baste again with bbq sauce. Cook for another 5 minutes at 400 until scallop is tender and opaque and bacon is cooked through. Serve hot.

1/4 cup Williamson Bros. BBQ sauce

I also sprinkled a little Historic BBQ Red seasoning on them when they were done.
Nutrition
Serving:
4
scallops
Calories:
189
kcal
Carbohydrates:
8.5
g
Protein:
26.1
g
Fat:
4.5
g
Saturated Fat:
1.6
g
Cholesterol:
55
mg
Sodium:
578
mg
Potassium:
419
mg
Fiber:
0.1
g
Sugar:
4.1
g
Calcium:
31
mg