I'd heard a couple of rave reviews about
Ali Baba's Mediterranean Grill
on Red Bank and was really excited to try it. I love Lebanese/Greek food and this place is close by and affordable – sounds like a winning combination!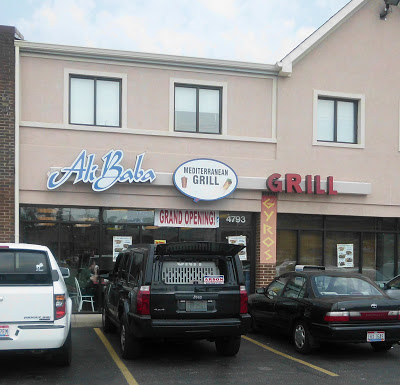 It's on Red Bank near the Walmart in a strip mall. This was the space that was supposed to have or had for a VERY short while someplace that was the "Home of the $10 T-Bone" – dammit – I missed it!
But now – it's home to Ali Baba's.
The menu is on the wall and there are printed copies on the counter – it's a good selection. I can't find a website but if you click on the image – it will enlarge and you can see the offerings.
Ahhhh…spits of meat. I have to say – the one on the right looked kinda gross – but it was chicken pieces stacked rather than just a big hunk of lamb.
Larry & Marla joined me and each got the gyro ($6). It was HUGE! The tsatziki was okay – but not my favorite in town. It varies so much from place to place – sometimes it's thick like sour cream (which I like – shocker) and other times thin like yogurt (not so much). The meat was standard but good. All in all a good standard gyro.
We also tried a side of hummus – I think Sabra hummus has me spoiled – I crave their roasted red pepper on a regular basis. This was of the plain variety made in-house and it was fine. Again – good standard hummus.
I got the Chicken Schwarma pita ($6). I have mixed feelings on this – there were LOTS of veggies in with it – which I loved and the chicken was flavorful. The sauce was a bit lacking and the pita was already torn when I got it so it fell apart quickly. It was also a bit stale.
Aside from the food – service and atmosphere should be addressed. First – it's hot – there's no air and it gets a bit sticky in there. It wasn't too bad the day we went but it was noticeable – I can't imagine on a HOT day. Also – ordering there is a bit clunky – you order at the counter – but it's just awkward. Also – Marla's gyro was probably 5-7 minutes behind our two sandwiches. The kid forgot about it and we ended up going up and it was sitting there waiting to be taken out. They're very very polite and friendly – but it's just clunky and needs some work.
Why Should You Go?
The food is good – not amazing – but solid, good Mediterranean food and it's really affordable. The portion sizes are also very large – you won't leave hungry by any means!!!!