I love breakfast food – it's one of my favorite meals of the day. I have my favorite breakfast place but I keep thinking – there could be something better…so I keep going new places. We tried Echo on Saturday but it was PACKED so we tried again on Sunday for the pre-church crowd and made it! (Still with time to get to Crossroads even for the 10am!)
I have this fondness for the Echo – it's an adorable diner with the original countertops and all that good stuff. It's just a fun place to go. When I lived in Mt. Lookout I went quite often but since moving up the hill – I just haven't made it. Well today was the day! Would it be as good as I remembered?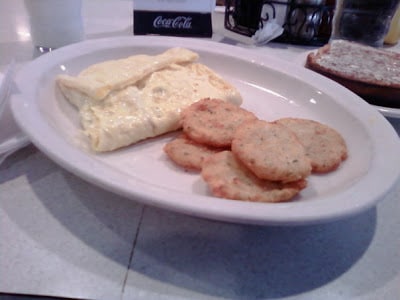 I got a Create-Your-Own omelete ($8.85) with a side of potato cakes and toast. I got sausage, mushroom and cheese. The toast was a little too done, the omelet was really dry and the cakes were fine. I just was underwhelmed. The omelet is partially my fault for doing CYO but the sausage was the culprit…it just was too dry. Overall – for spending $8.85 – I wasn't too happy.
Larry of course got the biscuits & gravy ($4.75) with sides of toast and sausage. The b&g was good – but not as good as the "favorite spot". The sausage – also – not as good (sausage is such a personal taste thing – it was fine).
All in all our bill was over $20 with milk & oj – seems expensive when we walked away not very excited. I think our days of trying new breakfast spots are over. We're sticking with Bluebird in Norwood.
Why Should You Go? It is a very adorable diner and it's always always always packed. I really like the fact that they have things your Mom would make like fried chicken & casseroles. If you go for breakfast – prepare for a wait.