On another trip to see my little sis in Springfield, we had to explore a new dining spot! Sis and I actually drive around looking for new little diners to go to…and we found another!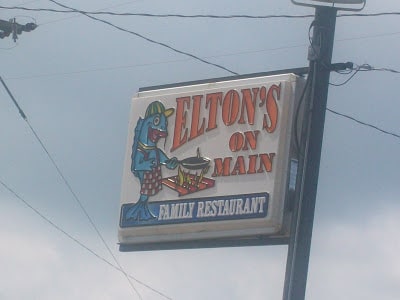 Elton's on Main is your typical diner – nice little family-owned place. They serve breakfast, lunch and dinner – things like chopped steak, chicken fingers, country-fried steak and even my blessed pork tenderloin!
While on the way to Elton's we drove by a used car lot and saw this Mustang. The BF loves loves loves Mustangs and this was somethin else so I had to take a picture.
Drinks come in big ass Mason jars…you know that's a good sign of things to come!
I got a side salad and have to say – it may not look like much – but it was really great! There were carrots, radishes, cheese, fried onions and best of all homemade ranch.
Here's a shot of the diner…the tree in the corner stays up all year I'm guessing and gets decorated for the seasons…it's a fall tree now. It's not fancy – but it's homey.
Sis got the California Melt (veggie burger, swiss, mustard, pickle, rye) and liked it – she said it was darn good for a veggie burger. And for $2.50 extra you get two sides!
There are so many sides to choose from: salad, red beans & rice, black beans & rice, baked potato, french fries, home fries, mac & cheese, broccoli, green beans, cottage cheese, cole slaw, applesauce, pickled beets/eggs (um ew), corn nuggets (wtf), onion rings, california blend, corn, sweet potato casserole and mashed potatoes! WHEW – that's a list!
I got the pork tenderloin because I get them whenever I can. They aren't the same as the ones back home but it was good. Crispy breading, juicy thin tenderloin, mm mm good!
As you can see – I got the mac & cheese. it was good – very velveeta shells & cheese but I think homemade because the shells were huge. Very good.
Overall Elton's isn't anything too special or stand out – but if you're hungry and in Springfield – it's worth a stop.