A couple weeks ago we headed to Dayton to meet up with some fantastic friends and it was their choice for lunch. They guided us to Taqueria Mixtecha on 3rd near downtown Dayton and I'm so glad they did!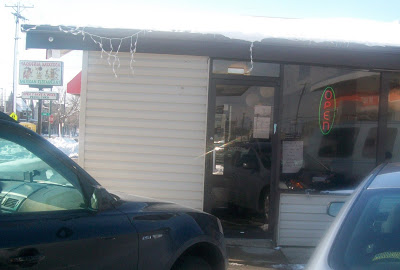 I did my research on Urbanspoon and saw that it's a hole-in-the-wall and was prepared for the worst. It was much better than I thought! It's a building of it's own and in a fairly industrial area. The building is bright and although – a little hole-in-the-wall-ish – not bad! There are about 7 booths inside and then some tables along the side as well.
Those are not bottles of ketchup & mustard – they are different kinds of salsa – I tried them all and loved them. I think I liked the yellow bottle the best.
Wendy got the chimichanga…and look at all that delicious avocado!
Think that Richard got a quesadilla of some kind – pretty sure that's what it was…
I got four tacos – chorizo, carnitas (pork), vegetarian and tongue. Yes – tongue. Larry is always wanting me to try gross stuff cuz he thinks I won't do it – but I did! Honestly I didn't know which was the tongue so I can't tell you the quality of the tongue. But I ate all four – so it must have been good! There were about 10 options for what you could get in your tacos – very much like La Mexicana in Newport.
I will say – I took the tomatoes off – those were sad sad tomatoes.
Larry got a burrito of some kind – it was giant like Chipotle.
The place was very busy with a constant stream of to-go orders and dine-in. You can order at counter for to-go or just have a seat and the staff will come to your table.
Why Should You Go? If you want authentic Mexican – it's the place to go. As I said – very similar to La Mexicana. And try the tongue – it was good! (Next time he's making me try tripe – oye help!)