I've been chatting for quite a while with Matt from
Just Q'in
on Twitter but never actually met him or tasted his food. Up until very recently he's just had a food truck & catering business – but now – he's got a restaurant too!
Matt has opened up a carryout restaurant in Newtown and in preparation for that – he dropped off a rack of ribs for me to try!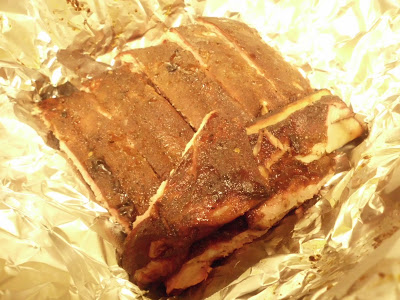 There was also a side of sauce with them as well. I have to say – the aroma filled the house the second he brought them in. Larry and I were practically drooling right then and there!
I have mainly had ribs with lots of sauce – but these came with the dry rub seasoning on them and I decided to just try them first like that – "naked" if you will.
Let me just say – I didn't even try the sauce! These ribs were soooooo amazing! Fall-off-the-bone delicious is probably the best way to describe these ribs. We had those ribs gone in less than 10 minutes – no sides, no plates, no silverware – just devouring at the kitchen counter!
Why Should You Go? These ribs were so delicious! So – if you're looking for amazing ribs, catering or are in the vicinity of Newtown – get over to Just Q'in!!!