This year is my quest to visit a new restaurant every two weeks – broken down by letter of the alphabet and voted on by YOU! Finally got to the letter B – I'm already behind – supposed to be on C by now! Please vote in the poll on the left of the page and help me choose – there are clear leaders already – keep the votes coming!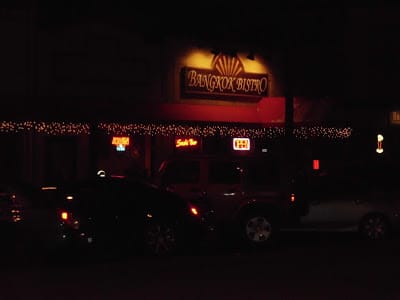 B was a close, close race but finally won in a last minute surge by Bangkok Bistro in East Hyde Park. I have friends that live within a block or two of BB but I'd never been! My friend Deb and I headed out Friday night.
First up – GOLDEN BAGS! I don't know – the name made us giggle like 9 year olds. It was voted best appetizer at something (Taste – maybe?) in 2010 so we decided to try it. You get 6 bags for $6.95. They were very crispy and filled with sausage, peas and carrots (I think – it's not on their online menu) and then served with a sweet & sour dipping sauce. These were AMAZING! We devoured these – and the sauce wasn't the thick gloppy red crap you get at a Chinese buffet – this was so delicious!
Let me say – I don't understand the garnish on the plate. Am I going to eat a sliver of tomato with this? Just let the bags rule the plate. They were great!
We also wanted a little sushi – so we got a Dynamite Roll ($6.95). Again – they knocked this out of the park. The meal was definitely off to an excellent start!
Deb decided to be boring and get the Chicken Pad Thai ($10.95). I only say boring because she's had it before! Tsk Tsk! But it's okay – I love me some Deb! I did snag a bite and it was pretty good – it has a touch of sweetness to it and she ordered hers at a 5 and it was spicy but not OMGSPICY. Good stuff!
I was debating – it took me forever to decide! Finally I settled on the Drunken Noodles ($14.95) – flat rice noodles with shrimp, chicken, vegetables & Thai basil. This was delicious as well! Much sweeter than the pad thai but I really enjoyed it. We each had 1/2 plate of leftovers to take home (hooray!) after our sushi/bag appetizers. I only ordered a 2 (their scale is 1-10) on the spice level and really couldn't taste any – which is fine. I'm not sure the spicy with the sweet would be as tasty.
Why Should You Go? I have to say – the barrage of Thai in Hyde Park/Mt. Lookout is just crazy – but I have to say – I LOVED IT! Bangkok Bistro will definitely be on my "go back" list for the future. Everything we had was delicious!