Because of the impending nuptuals – we're trying to cook more at home to save $$. It's not working out so well – but every once in a while – I do cook. And even more seldom – Larry helps! (He helps with everything else – he's just not much for cooking.)
We both like fish and I have been in search of recipes where I can use frozen fish more often since it's more convenient. I found this one on Cooking.com for Baked Cod Casserole.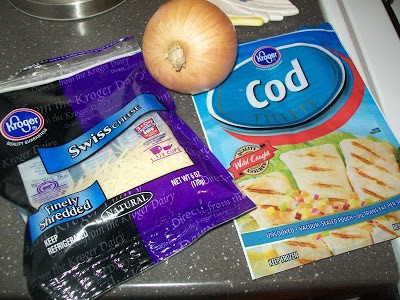 Ingredients – I modified a bit as usual…and noted with **

2 tablespoons extra-virgin olive oil, divided
2 medium onions, very thinly sliced
**1 cup chicken broth (called for 1 cup dry white wine
)
1 1/4 pounds cod, cut into 4 pieces
2 teaspoons chopped fresh thyme
1/2 teaspoon kosher salt
1/2 teaspoon black pepper
**little bit of stove top stuffing as we were out of bread (called for 1 1/2 cups finely chopped whole-wheat country bread (about 2 slices))
1/2 teaspoon paprika
1/2 teaspoon garlic powder
** I used Swiss (called for 1 cup finely shredded Gruyere or swiss cheese)
Then I put Larry to work on the onions – he did an excellent job! It's an easy recipe:
* Preheat oven to 400°F.
* Heat 1 tablespoon oil in a large ovenproof skillet over medium-high heat. Add onions and cook, stirring often, until just starting to soften, 5 to 7 minutes. Add wine, increase heat to high and cook, stirring often, until the wine is slightly reduced, 2 to 4 minutes.
I love Aldi!

* Place cod on the onions and sprinkle with thyme, salt and pepper. Cover the pan tightly with foil; transfer to the oven and bake for 12 minutes.
* Toss the bread with the remaining 1 tablespoon oil, paprika and garlic powder in a small bowl. Spread the bread mixture over the fish and top with cheese. Bake, uncovered, until the fish is opaque in the center, about 10 minutes more.
We used a stainless steel skillet because it could go right into the oven without dirtying another dish…worked very nicely.
Voila – here it is!
It was pretty darned good and it was nice to have something other than just tartar sauce with the fish. And it was nice to get us together in the kitchen – he's a good sous chef!
Hope you're inspired to have some fish this week!