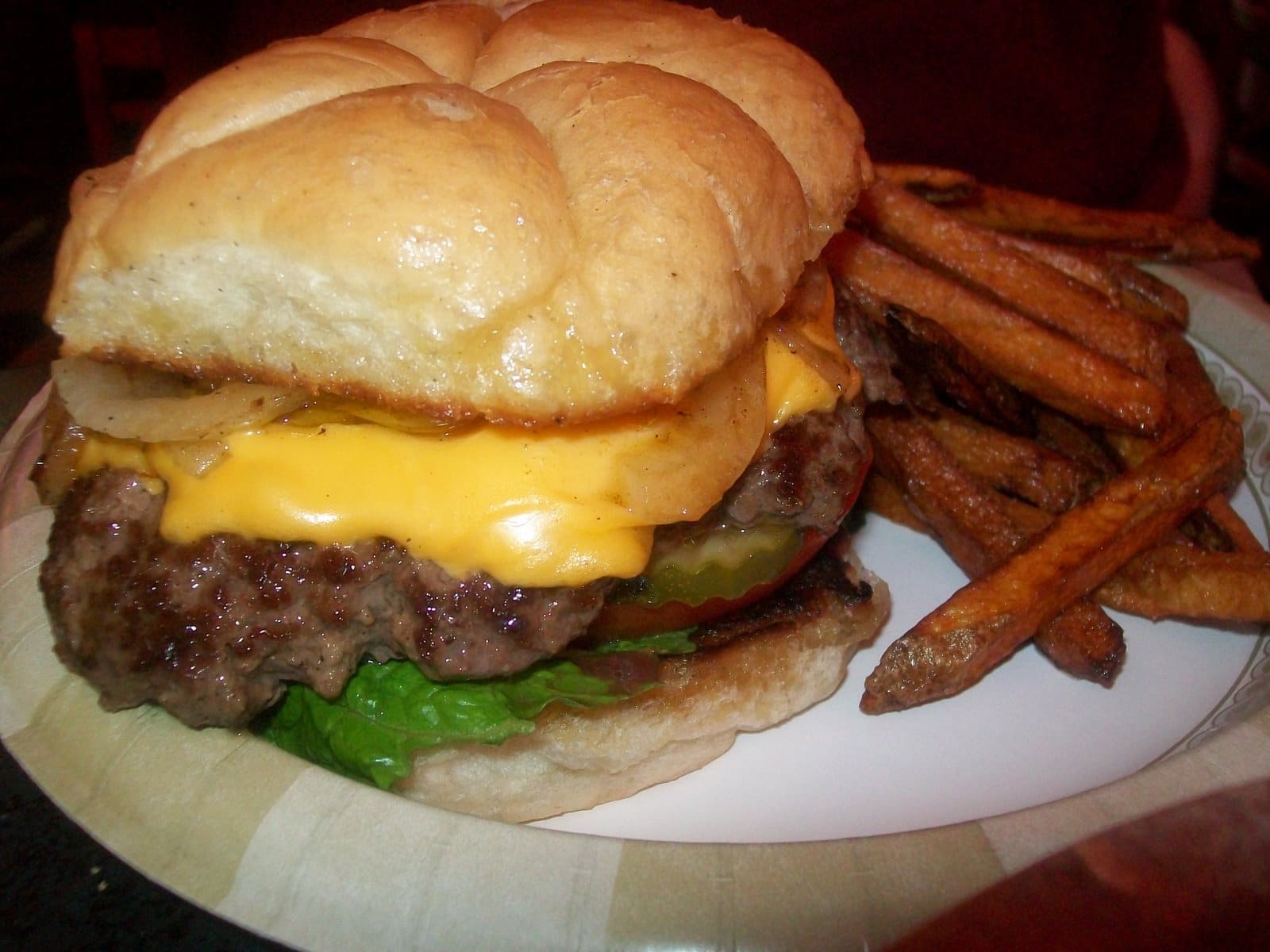 Did I just say this was better than Zips????
It is – in a way. If you're sans-children and want a great house burger – one you'd make in the backyard with all your friends – then this is the place. Re: "sans-children" – Terry's is loud and the seating just isn't kid-friendly. It's really fun – but just not a place I'd go with kids.
We each had cheeseburgers with american cheese and all the good stuff (lettuce, pickle, mayo, etc…). We each got grilled onions – excellent addition!
My favorite part is when you ask for a knife – they bring you a huge serrated knife – wait for you to cut your burger and then take it back. It's jarring the first time – but it's fun.
I also want to let you know about the uniqueness of Terry's. You can get all this wild stuff – you can get goat or blue cheese, wine sauce, portabella mushrooms, scallops, etc… Most of those can even be gotten on the burger. But truly – in the end – just get the burger. It's amazing – astounding – fabulous – yummy – delicious! I recommend the goat cheese though – it's unique and fun.
The other thing that makes Terry's so great is the ambiance. It's got neon signs all over, these huge beer coolers, mismatched tables and stools, etc… It's loud and there's a huge range of patrons – from 21 year old beer guzzling guys to 60 year old Hyde Park couples.
Terry's is a very fun and unique spot to get a great burger and fries. I'd love to see them add sweet potato fries to the menu – I think it easily fits in their niche and would be a nice compliment to the burger.
Terry's definitely gets the 4 star = Oh my…um…wow…I need a minute here…cuz that is amazing!

Terry's Turf Club
4618 Eastern Ave.
Cincinnati, OH 45226
513-533-4222
Hours: 4 p.m.-2:30 a.m. Monday-Saturday; noon-8 p.m. Sunday.