A few years back I was anti-Wal-Mart – severely!!! Now I've backed off and will go when requested…especially since we have a nice pretty clean new one on Red Bank. Since we've been visiting the shiny WallyWorld I have noticed the strip mall next to it – teasing me with a Mexican restaurant coming soon. But finally – it's open!!!!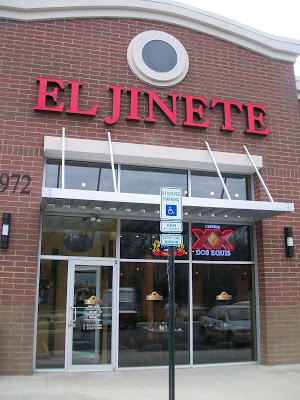 El Jinete has opened in the strip-mall near the Wal-Mart – there's also a chinese buffet there too – just haven't stopped there yet.
First – of course – chips and salsa in the little containers. Very tasty!
I ordered the bean & cheese dip – man do I love this ooey gooey white cheese dip and the refried beans below – yum!
The decor is pretty standard but it's all brand-spanking-new – so it's nice. Lots of flat-screens all over as well so you can watch whatever game is on while filling up on the chips.
Now to remember what we ordered a week ago – um – not gonna happen. He got steak & shrimp with fajita type stuff on top and it was really really good. I was definitely jealous of this dish…so I thought…
Until my dish came – holy moly – this was awesome! It's chicken and mushrooms and just deliciousness. I do wish I'd taken pics of the menu so I could remember but man oh man – it was soooooo good!
The best part was the portions are huge so we each ate half and then mixed it all together and I had lunch for 2 days!
The rice and beans were standard – nothing amazing – but good.
Why Should You Go? It's really comparable to my other favorite – El Rancho Grande. The restaurant itself is brand new so it's very clean and nice inside. I really enjoyed it and we can't wait to go back.
Also – for the formerly-lacking-in-Mexican area that I live in (Pleasant Ridge) – I'm thrilled that we can get to Mexican in less than 10 minutes no matter where we go now!
Kenwood – El Rancho Grande
Norwood – Cancun (next to Frisch's – opening soon)
Red Bank – El Jinete
Hyde Park – El Toro