When I go home – I tend to eat a lot. I can't help it – I love food and that's what I think of when I think of home. That said – my friends always let me basically dictate where we eat all weekend – which I love.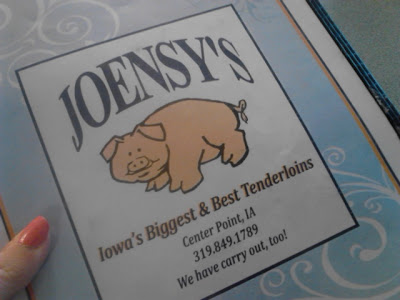 My choice for the first night in town was Joensy's – Amy was a little surprised – but I said – I just want a big ass tenderloin. That will bring me joy.
Larry wasn't sure if the tenderloin had any egg so he went for a hot brown and was definitely pleased. Maybe the saying should be "Everything's bigger in IOWA" instead of Texas?!
Then it came…the heaven's parted, the angels were singing – there it was – my big ass tenderloin! I love how the cheese and bun are dwarfed by its power. It was all I remembered it to be and all I hoped it would be. Oh how delicious you were my porky friend!
Why Should You Go?
Um – look at that – it's probably worth the seven-hour drive right now!