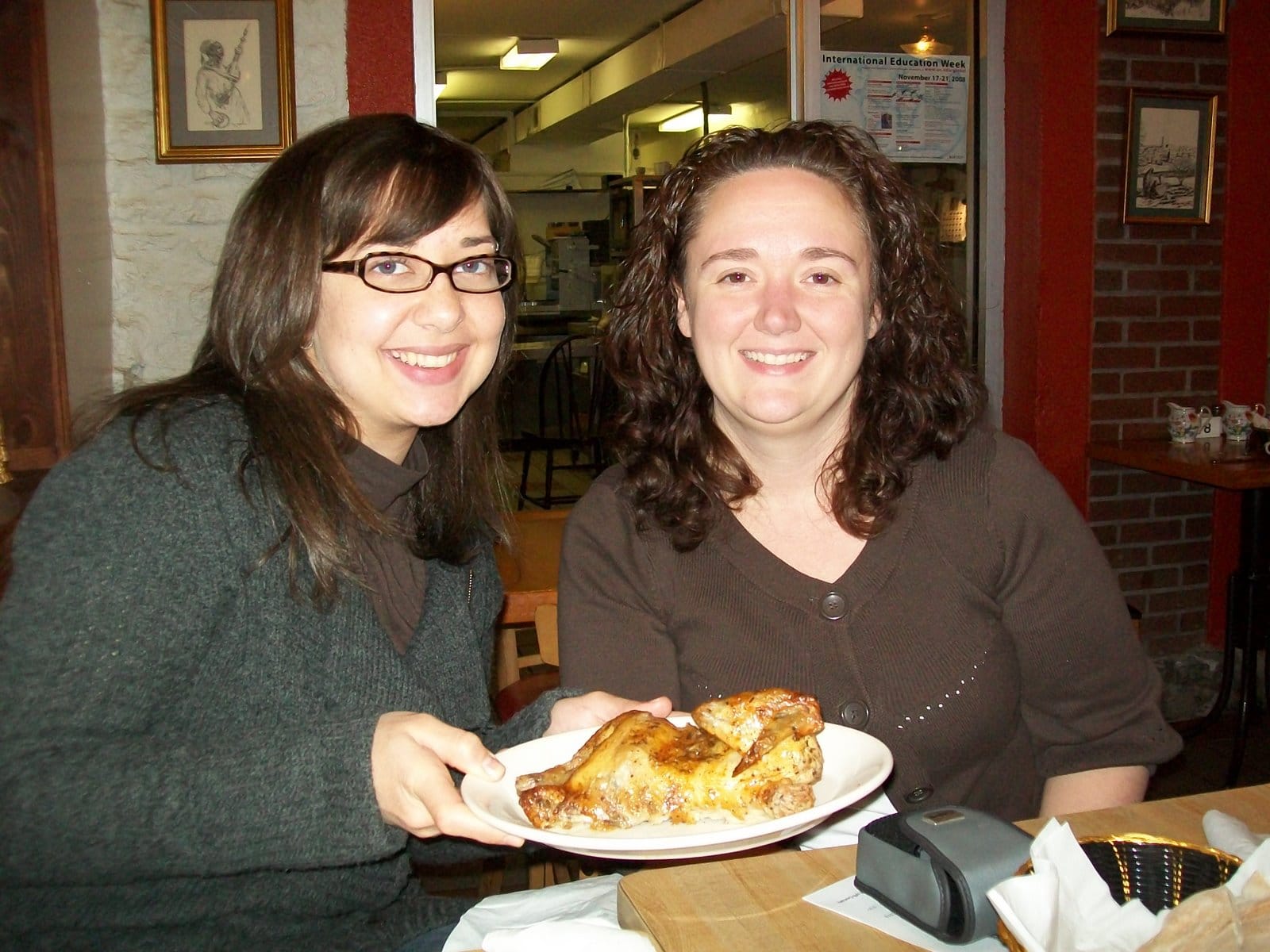 So tonight – "Get in mah belly," "Veggie Options" and I decided to have a Cinci Blog Babe Convention at Floyd's in Clifton!
Aren't we adorable? Veggie was taking the picture – she's a little camera shy…
We had all been chatting and decided to have a bloggers night out to someplace new. We wanted to try the Baltic place in Mason but it closed – so we decided to go for Floyd's.
The specialty at Floyd's is the chicken – you should actually call ahead a couple hours to

reserve your bird!
The other girls will be writing their blogs too – so I'll just enlighten you about my selections! I chose the hummus (or hommos on their menu), the spanokopita and a half chicken. I decided to try a nice variety!
The hummus was delish!!! Very tangy – definitely could taste the tahini in it. Although – I'm now partial to Sabra brand – but for a more authentic kind – it was good.
Next up the spanokopita – very good. Everything
there is pre-made for the most part. They showed us all of the sides ahead of time so we could make a more informed decision. The spanokopita just looked awesome – so I decided I had to have that… It was very good – the phylo was light and crispy – the spinach & feta mixture was almost "meaty". I really liked it.
Next up with the chicken – it's spit roasted and very full of lemon & garlic. I like the flavor but it was a bit dry – which can happen with white meat chicken.
Lastly – dessert! We couldn't skip that. The girls each went with baklava – I decided on the Lebanese pancakes – two pancakes filled with creme fraiche, topped with pistachios and syrup. I have to say – it was fab-u-lous! Dipping in the clear simple syrup is essential – the rest isn't that sweet – so that's a perfect balance!
Overall – it was a great meal – my bill for 2 sodas and all of the above was $26 – but I did order 2 entrees so I wasn't surprised. The menu is a bit spotty as far as the offerings – tonight – no falafel, kibbi or any of the specials.
The company helped – we had a great time and I think this is just the first of many blogging dinners for these babes!
You might be asking – Heather – you didn't mention any beans? Your headline says birds AND beans! Well…the side they're famous for is Lima Beans. Now you're saying – I don't like lima beans! Who does? Well – let me tell you – you'll like these! They're great!
I'll give Floyd's a solid 3 star – good food – very unique and I always like when the food is unique and ethnic.
Floyd's
127 Calhoun St.
Cincinnati, Ohio 45219
513.221.2434