So when my sister was here – she and her friends decided to have a Macaroni and Cheese Face-Off!
The contestants were:
Velveeta Shells & Cheese
Original Kraft Macaroni & Cheese
Kraft Macaroni & Cheese Three Cheese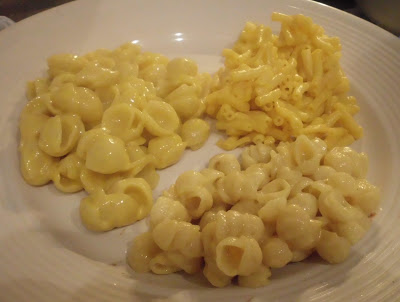 Here we have the contestants after being made:
Left: Velveeta, Top Right: Original Kraft, Bottom Right: 3 Cheese Kraft
There was a team of 4 judges: me, sister, sister's college friend Karen, Karen's French boyfriend Jocelyn. We were discerning and picky! Jocelyn was the chef and you should have seen the stove with 3 pots of cheesy noodly goodness cooking all at once!
Velveeta: very creamy with the distinct Velveeta flavor. A little overwhelming and thick in comparison.
Original Kraft: oh how I love the orange powder. This had the tanginess I've loved since grade school.
Three Cheese Kraft: creamy, cheesy, mild and very comforting.
After much deliberation and much eating – the judges came to a decision:

The verdict: Unanimously and Surprisingly – Kraft Three Cheese Macaroni!
We were all shocked at how much we all loved the Three Cheese macaroni so much more than the others! I'd never even tried that one! But when you put it up against the other two – it stood out so much! Delish!
Obviously this isn't culinary expertise – but when you're hanging with recent college grads – it's a big feat to cook this much! I might keep doing these sometime – it was pretty fun! Any other thoughts on face off possibilities (Skyline/Goldstar, Graeters/UDF/Aglamesis, etc…)?