I was headed to work the "back way" via Dixie Highway and was starving! STAR. VING. There aren't any junk fast food places on this route and then I spotted Brewberry Coffee (corner of Dixie & Buttermilk) and thought – they must have SOMETHING to eat!
And they did!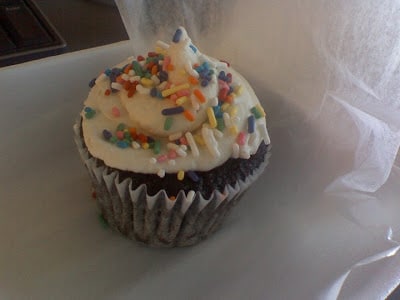 First I spotted cupcakes – and who doesn't love cupcakes. This was going to be my breakfast – healthy right?
But then I saw this! A giant cinnamon roll! w00t!
Decisions, decisions! So I got both!
The cupcake was good – not decadent or amazing like Abby Girl – but a nice afternoon treat. The cinnamon roll was really great and I'd definitely get that again.
They also have lunch offerings – not much – but I think it was chicken salad and a bag of chips or something like that. Just a couple choices – but still something different! I'll have to get out and try that too.
Why Should You Go? Well – I'm not a coffee drinker – but they have that too. It's a very cute little shop and I love finding these hidden spots. Plus the cinnamon roll kicked ass.