The folks at
Bruegger's
are so good to me – every time they have a new menu item – I hear about it and get to try it!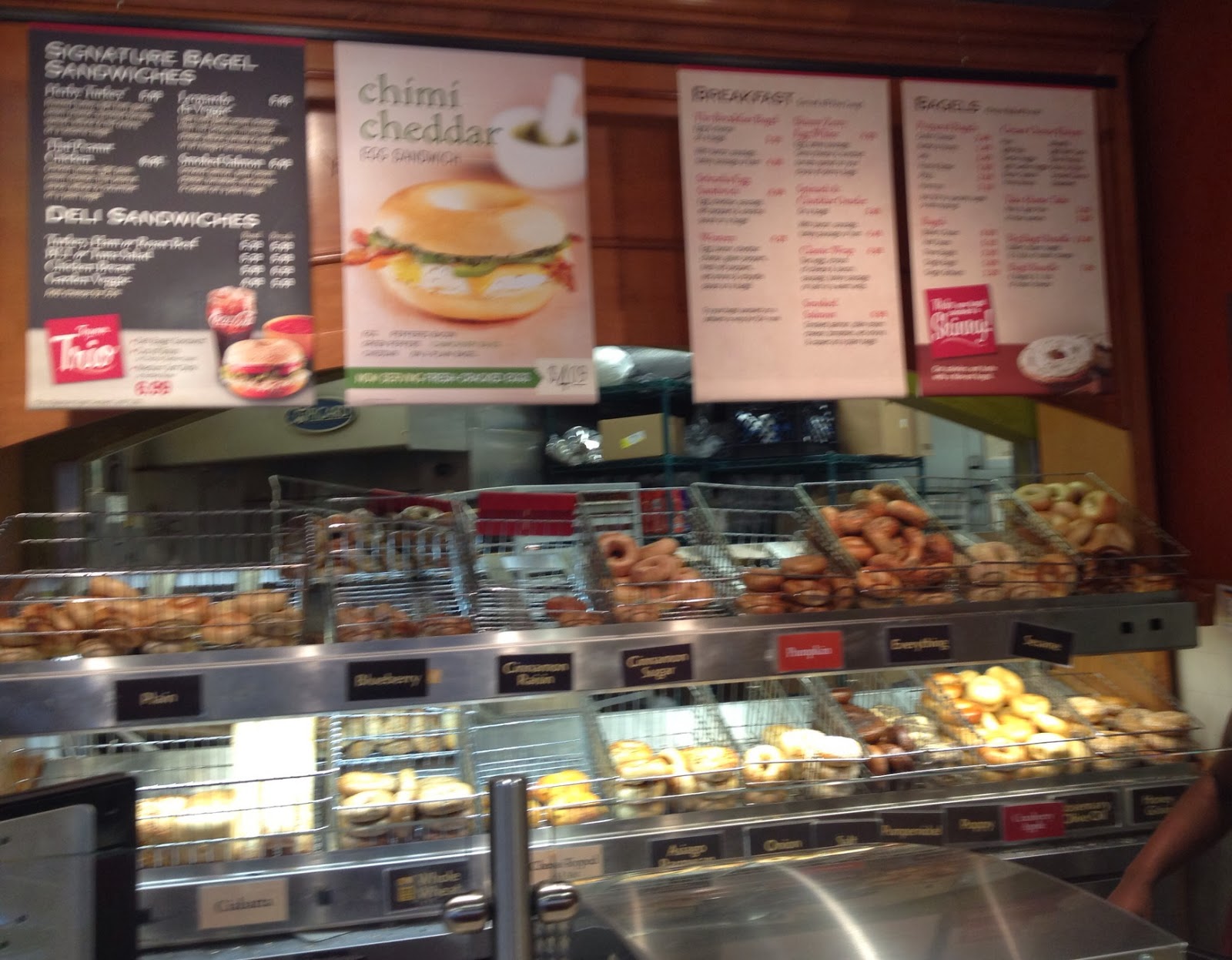 As you can see – they always have bagels, bagels, bagels – which I actually got to help make on an
earlier visit to this Columbia Parkway
location. There's a sign up for their new sandwich – the Chimi Cheddar Sandwich which has egg, peppered bacon, green peppers, chimichurri sauce and cheddar. I was excited to try this one.
And hey – sometimes you get a bonus and can try a little nibble before you order!
As we headed to the cash register these were sitting out tempting us – SERIOUSLY?! Fresh out of the oven cookies – who can resist that?!
And don't forget – Bruegger's has lots of coffee – my coworker tried the Pumpkin Spice for the holidays and raved about how delicious it was! (And she's a tough one to please)
Anne got the Skinny Zesty Egg White sandwich that had a skinny bagel (basically the middle is cut out), egg white, turkey sausage, sun dried tomato spread and swiss cheese. She liked it!
I tried the new Chimi-Cheddar of course and really liked it. The Chimichurri isn't spicy but adds a lot of flavor. I like the flavor to be in the toppings rather than the bagel. I like this one a lot but think my next one to try will be the Spinach & Cheddar Omelet sandwich (doesn't that sound awesome – it even has bacon!).
Matt got the Western which is egg, bacon, cheddar, chipotle mayo, green pepper, red pepper, tomatoes and onions – wow!! You have to admit – that looks delicious (and messy)!
And yes – those cookies spoke to me. I got an "Everything" – it's my favorite cookie on the planet – oatmeal, chocolate chip, peanut butter chip, coconut, nuts – like I said – EVERYTHING! It's so good! It hit the spot that afternoon.
Disclosure: I was provided Bruegger's Gift Certificates to try these sandwiches but all opinions are my own.