During our Anniversary weekend in Greensburg, IN, we decided we wanted to watch a little football on Sunday before the rest of our stops. We were both hungry and ready for some football!!!!!!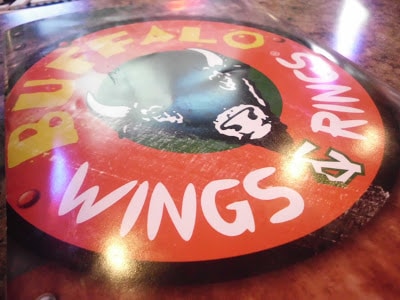 In search of a "sports bar" we found a
Buffalo Wings & Rings
on the other side of town (five whole minutes away). Shockingly enough I've never been to Wings & Rings. Heard of it many times but just never been hungry and near one at the same time.
Buffalo Chicken Nachos
Fresh made tortilla chips topped with crisp lettuce, a healthy portion of chicken tenders, tomatoes, onions, pepperoncini, jalapeños, a blend of cheeses, topped off with bleu cheese.
We ordered the Buffalo Chicken Nachos ($8ish) and subbed sour cream for the bleu cheese. Holy crapamole! This was AWESOME!!!! Seriously one of the best plates of bar nachos I've ever had! Larry acted like he wasn't really hungry but he SO polished off half of these. They were SPICY but not too spicy and just fantastic. Thinking about them right now – I want some today. I might have to find a Wings & Rings tonight…
Why Should You Go?
It's your standard bar food but the staff was extremely friendly and we found lots of Colts & Bengals fans to chat with. Plus – these nachos are the bomb diggity!