As I've posted far too many times as of late – I feel as though I've exhausted my lunch options within a 5 minute drive of downtown…then last week I remembered MAINSTRASSE!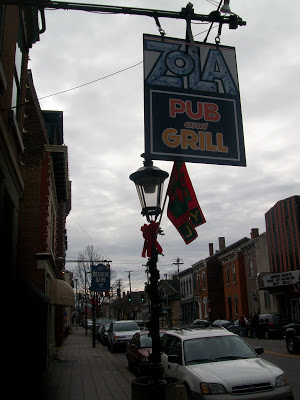 So Wednesday Larry and I headed down to Zola Pub & Grill. I remembered something about cheap burgers on Wednesday and that sounded good.
Inside were the remnants of holiday decorations and a bunch of tables…we were lucky enough to grab one. Five minutes later – full! But there's an upstairs as well.
They have specials every day – but Wednesday is $6 burgers!!! That comes with fries, chips or slaw and up to 5 toppings on your burger. But are they good?
I like STUFF on my burger. I got mushrooms, bacon, cheddar and BBQ sauce – plus a side of ranch for the fries. We both ordered the burgers medium rare.
They were cooked to perfection! Juicy, not-to-messy and delicious! It was a great damn burger…and I can't wait to go back!
The one meh – the ranch. I'm picky – it was store bought and funny tasting. (But the BBQ was great!)
Larry's a little more "simple" and just got swiss – he thought it was great as well! We both were in the "clean plate club" that day for sure!
Here's a shot of my burger from the inside…damn…now I'm hungry again!
So this Wednesday – get your ass to Zola…you might even see me there!
Why Should You Go? It's obvious – cheap burgers that taste great!