A couple weeks back the twitter world was discussing Pera – the new Mediterranean restaurant in Mt Lookout. While that was going on someone mentioned how awesome Cafe Mediterranean was. I had never been – so it went on my Wish List! Then that weekend – we magically stumbled upon it on our Saturday drive. Larry isn't big on ethnic food but he was up for the challenge and I'm so glad he was!!!!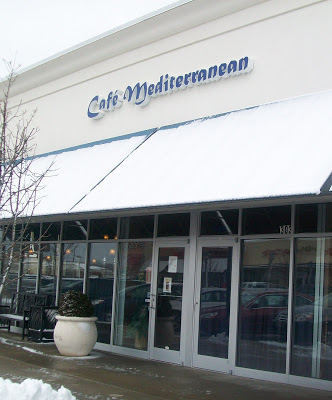 Cafe Meditteranean is on Beechmont in the "mall" where Macy's is. It's one of those outdoor malls – so look for Macy's as you're driving down Beechmont or you'll probably never find it. Then it's across from the Irish Pub.
We started out with hummus ($5.95). Larry had never had hummus so I was figuring he wouldn't much like it – WRONG! He loved it! It was very good – I'd love to see them add some flavored hummus (or is it "hummi" when it's plural) to the menu. Very generous portion as well.
Iskender Kebab ($16.85) Layers of doner (lamb), diced pita bread, garlic, yogurt and fresh
tomato sauce.
This was my choice – I've always thought Andy's was too dry when I've been there so I like to find things with sauces. This was an EXCELLENT choice. The sauce was so rich and delicious. The pita bread was soft because of all the sauce but not mushy like wet bread can be. The meat – amazing. Just really – can't say enough about how much I loved this dish!
This dish also introduced me to the odd phenomenon of the region where people call green peppers "mangoes". Larry asked if he could have my mango – I looked at him like he'd had a stroke! Then after a coworker tip and a bit of internet research I found he's not crazy – it's just this region. Y'all call em mangoes – who knew?
Stuffed Cabbage Rolls ($13.75) Cabbage leaves stuffed with rice, beef, peppers,
onions and herbs.
Larry went for the cabbage rolls – another surprising choice. But again – loved it! It tasted much like a stuffed mango/green pepper would so it was pleasing. The sauce was also very good.
Here's a separate room off the main area where you can have group dinners and sit very low to the ground. It's very cute and private.
The portion size was fantastic – we had 1/2 mine and one cabbage roll left so I had lunch for work the next week.
The only thing to mention is we went during "lunch" on a weekend but were presented the "dinner" menu. Maybe lunch is reserved for M-F but it's something to take note of when looking at online menu prices.
Overall – this is definitely now my favorite Mediterranean stop in town…can't wait to go back and try more things!
Why Should You Go? It's awesome. I hear the red lentil soup is good too – I'll try that on my next visit. Trust me – it's worth the drive.