So my good buddy Eric suggested I start reviewing the catering options that our company has come in. I think it's a good idea – I mean – it's food and lots of people that read this blog probably have jobs (I hope) and might have catering at work! So here goes…first up is Aynie's Cuisine on Call!
They have 2 locations: Covington & Deer Park. We most likely used the Covington one since we're downtown…from the website the selections look pretty vast! They also are now on Twitter (and have been added to my Cincinnati-Restaurants twitter list!).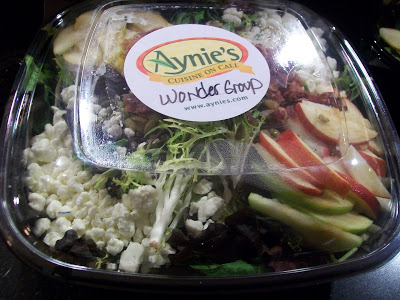 The salads were packaged up with lots of stuff: bleu cheese, apples, nuts, spring mix, etc… looked pretty good!
There was also a huge plate of desserts – I really couldn't decide! That leaf cookie looked really really great…but come on…if there's a cupcake…I'm eating it.
Sandwiches – more of the same! Great variety – very fresh. There were meats, salads and more. It was a great spread.
A white counter makes for a great photo…I chose the chicken salad on a croissant. Now it did have apples, grapes and nuts in it – which I am not normally a fan of but it was really good. The salad – amazing…the dressing was a balsamic vinagrette. Again normally not a fan but that was the only option – it was really good though – especially with the nuts, fruit and cheese. And let me say also – I hate bleu cheese – tastes and smells like feet – but this must have been a mild one. It only smelled/tasted like clean feet.
The cupcake gets it's own paragraph. I chose it for the coconut – cuz I'm a sucker for it. And much to my pleasant surprise – it was a German Chocolate Cupcake!!!! It was sooooooooo good! I wanted to go back and take more but I had saved it until the end of the day and they were gone. DAMMIT!
So – while I didn't pay for this and have no idea on the cost – Aynie's was a great catering day us. The food was fresh, unique and surprising (german chocolate!!!!).