Last week we had clients in town and that only means one thing – CATERED LUNCH! Thus I had to continue the catering blog on TheFoodHussy.com.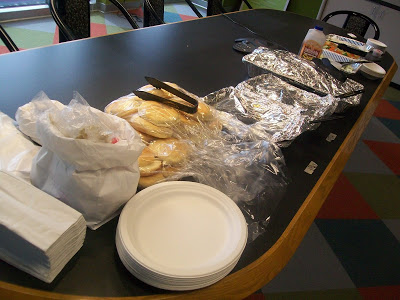 Ah – Montgomery Inn. They bring quite a spread and it's nice to have something hot and more like "real food". Plus – it's always good to share the best of Cincinnati with the out-of-town clients.
Bib anyone?
Pulled chicken to the left – pulled pork to the right. I always go for the pork…ALWAYS.
Best part of MI catering – a huge pan of saratoga chips! These are delicious and pretty much everybody's favorite. There's no way we could polish them all off – but the rest of the office was happy to oblige!
Along with the chips – a jug o' sauce!
As if people want vegetables – we got some. I skip the coleslaw – not a big fan. Loaded up on a big plate of salad – pretty plain but tasty and balances out the chips and bun nicely.
I like that they give you GOOD ranch! It's ranchy-ranch – thick and creamy – DELICIOUS! Too many places use craptastic ranch now a days – not Montgomery Inn – it's the good stuff!
And here's the finished product – sammich, chips, salad and sauces. It was a great lunch. On a scale of 1-10 for catering – Montgomery Inn is definitely a 9.
I really don't choose to go there often – but for a catering option – it's great. Very different than cold sandwiches and saratoga chips go a long way with office morale!