Ah yes it's Lent and that means only one thing in the world of Cincinnati Dining – FISH FRY!!!!
I was pretty ashamed to admit that having lived here for nearly 9 years – I'd never been to one!! How can that be?! So I had it on my bucket list of things to do this year and can definitely say – I'll never miss another year!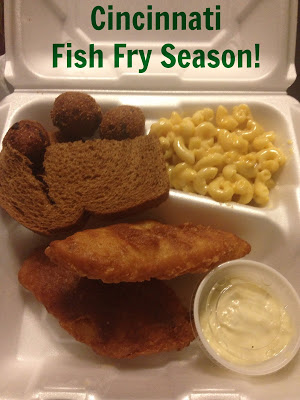 They have a few options – which is nice – I went for the beer battered and it was delicious! I've gotten this twice now – and won't change my mind on the main dish for sure! As far as the sides – I've tried a few things now:
mac & cheese – it was better the first time (pictured here) – the 2nd time it was a little more "bottom-of-the-pan" so this can be hit & miss – definitely some Velveeta in this stuff
hush puppies – they were fine – a little small and crispy – I guess I'd prefer fewer and bigger – but they were good – definitely needed ketchup or tartar sauce
bread – one week I got the piece of rye and the other i got a pull-apart roll – loved that – so I could make a sandwich out of one piece of fish
green beans – these were really great – definitely NOT canned! I think they were from someone's garden – they were so good!
cole slaw – it was okay – not very creamy so if you're a fan of "lightness" when it comes to the creamy – then this is for you
All in all – I'm digging Corpus Christi for sure – you can call ahead or walk in to a separate door for carry out and the price can't be beat either – $7!
Larry's never sure about fried fish because a lot of times people dip it in egg before the batter – so he went with the baked tilapia – and again – good stuff.
You only have a couple more weeks to experience this phenomenon – so get to it! And please share some of your favorites with me – I want to try a new one before they're over for 2013!