Recently I got to have lunch with the lovely ladies from Cincy Chic and we headed downtown to Coffee Emporium.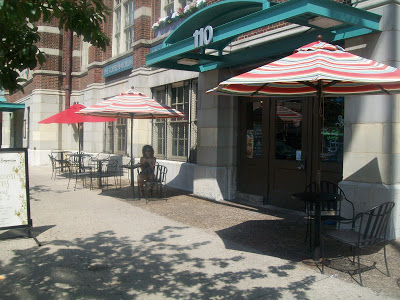 It's right there on Central Parkway – you have to kind of look for it but the umbrellas and sidewalk sign sure helped.
Inside the wafting smell of coffee is very strong. There are quite a few tables but also there's a nice loungy couch area in the front too.
There's a big wall o' coffee too – I don't drink coffee but it smelled good.
The girls from CC got the chicken salad ($6.95) – this one had the side salad. I'm always wary of chicken salad – I hate the stuff with nuts and grapes and stuff – I don't really even know if this had that BUT the girls both loved it. This came with the side salad or fruit.
I got the OTR Grilled Cheese ($6.95) with the side salad. It came with rye, garlic spread, tomato, cheddar & swiss. It was pretty good – I could definitely taste the garlic in the spread. The dressing was tasty as well – the "salad" was just spring mix – maybe adding something to it would be nice as well.
Here's the Chicken Salad served with a side of fruit. Again – looked good!
I didn't try these – someone called me out for not trying all the food on a previous blog. I gotta say – I don't think it's right of me to say "Hey friend – can I eat your food?" I'll do that with Larry – but not when I'm on a business lunch or with casual friends.
Why Should You Go? It's definitely a nice different lunch spot in downtown. It's a little off the beaten path but there is a good deal of parking though – so that's nice. I'd go back…