I've said it before and I'll say it again – the Bluebird Restaurant in Norwood is one of my favorite restaurants in Cincinnati. It's not fancy, they don't have a website and they even have the jukeboxes at every booth (they work too).
It's not magical but its consistent. So much so – the adorable waitress whose section we ALWAYS sit in – well she knows our breakfast order by heart (#1 with full order of biscuits & gravy and no eggs for Larry and French Toast w/ sunny side up egg, toast & sausage for me – plus OJ and Diet Coke).
After the gym one night we were starving (yes – it's a pattern) and we decided to head to the Bluebird. We're typically breakfast people but screw it – we were hungry and they were open!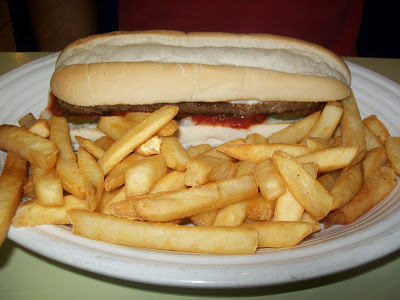 Larry got the steak hoagie and it was really really good. I'm not a huge fan in general but this one is tasty! Their fries are big too and always cooked just right.
I, of course, had to be adventurous and got the Reuben with potato pancakes. Again – delish! The pancakes weren't as crunchy/greasy as the ones from Izzys (which I LOVE) but were still tasty. Also the corned beef was really tasty – I was pulling it out and eating it plain.
Why Should You Go? I can't help but go – it's "our place". It's very very clean – which is good (and sometimes rare) for a mom & pop diner. The service is always friendly and prompt. The prices are good and the food is too! Plus we picked up their monthly menu – it shows the nightly special and there are things on it like Chicken Fried Steak (thus the headline) and Liver & Onions.