The great folks at Cooking Light continue to surprise me with the things I'm learning! On this day I got to learn how to make chicken and gravy. Sounds easy enough – but it was some good stuff!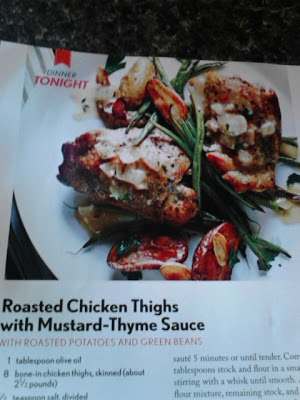 It's an easy enough recipe – I did use the boneless, skinless thighs rather than bone-in. Other than that – you just need fresh thyme and dijon mustard – most everything else are staples (chicken broth, onion, etc…).
The gravy it made was really tasty – very light and packed with flavor. The onion is mellow and roasting the chicken brought out a lot of flavor.
I paired it with steamed broccoli and a baked sweet potato – good stuff!
Thanks to Cooking Light for the magazine subscription – I'm always finding great stuff! Can't wait to see what I'll be making later this week! Will it be the Beef & Broccoli Bowl or the Chicken Florentine Pasta?
** Update ** My husband called me from work and said something he has NEVER said before!!!
THAT CHICKEN YOU SENT FOR MY LUNCH WAS AWESOME!!!!
It's a proud day in the land of FoodHussy!