I'm not big on resolutions…but this year I'm making one for my blog at least. While I love it, eating out all the time is expensive (come on – click the Food Buzz ad for me – just one click) and I don't get paid to do this – so I gotta cook more at home. Thus I figured if I'm cooking – might as well blog about it. It's all food…so here it is…the Food Hussy's first recipe!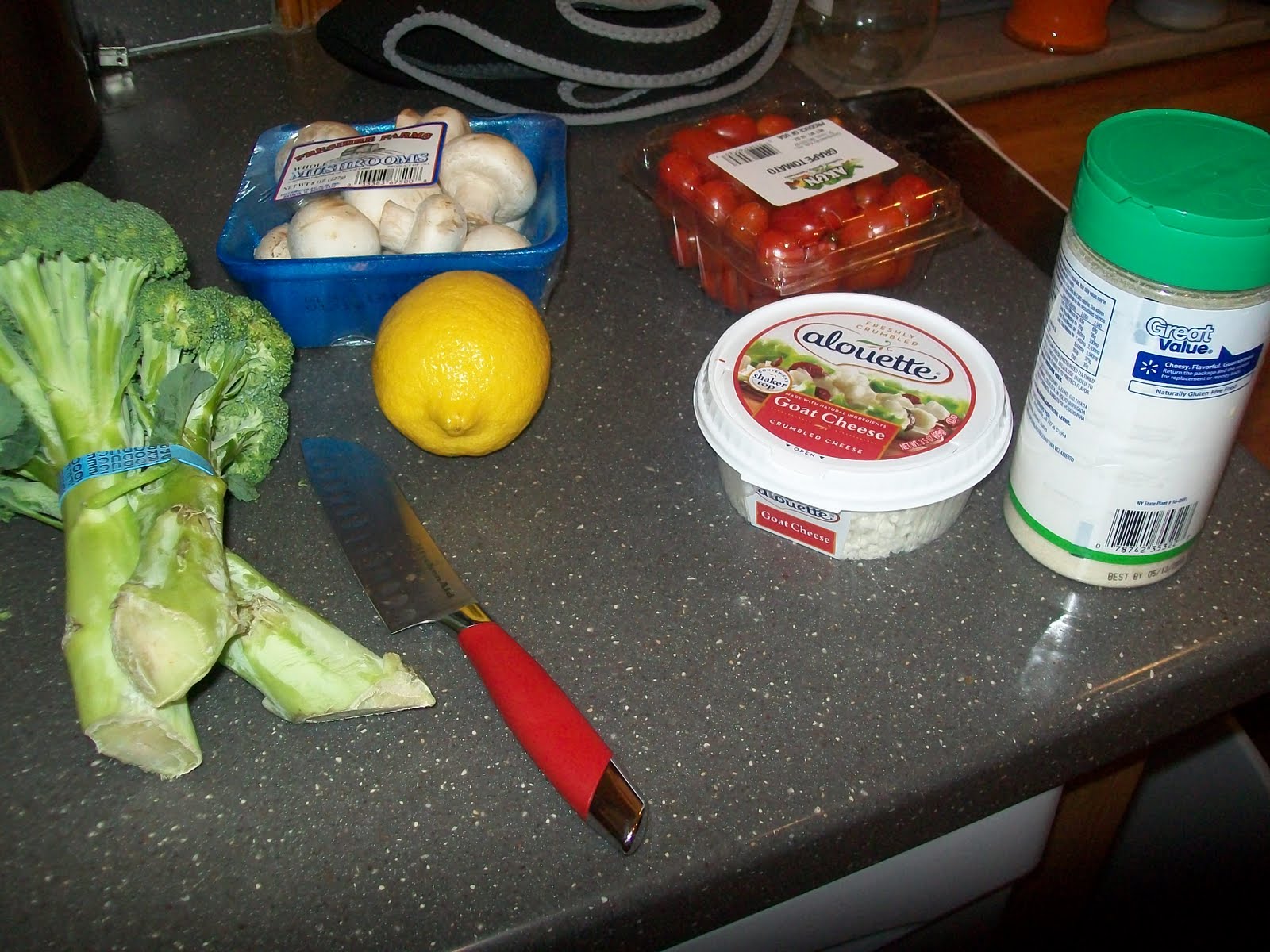 I like to use recipes but sometimes I just try and throw something together based on what's in the fridge. I get a wild hair and go! Today we had broccoli, mushrooms, lemon, parmesan, grape tomatoes and goat cheese…
…and Aldi-brand whole wheat pasta along with frozen salmon fillets. Let's get cooking and see what we figure out!
I saw something online from America's Test Kitchen twitter – it was a link to a recipe where they cooked salmon on top of asparagus. I figure if they did it with asparagus – I could do it with broccoli. We shall see…
So here we go – broccoli in skillet – with a bit of water…
I thawed out the salmon fillets on the defrost setting – enough so a little garlic salt/pepper would stick to them. Then laid them on top of the broccoli and started cooking…got it to a simmer and then let it ride.
Meanwhile – chop chop! I halved the grape tomatoes and sliced the mushrooms. Cut my lemon in half to prep it (after rolling it – does that really help?).
Also used some minced garlic and this special seasoning mix from my friend Katie. Seriously Katie – she's too cute! It's garlic salt, salt and pepper – then she puts it in adorable jars and gives it out at Christmas. God Love Katie!
In a separate skillet I saute the mushrooms & tomatoes in olive oil and add the minced garlic. Mmmmm garlic!
Oh yeah – cooked my thin spaghetti too – who wants to see a pic of boiling water? After the spaghetti was done I tossed it in with my tomato/mushroom mix.
Meanwhile – my salmon & broccoli concoction was cooking away. I squeezed 1/2 the lemon over the salmon pieces during cooking. I also turned the salmon a couple of times. Hey Chris why does mine look so pale???? I lifted the salmon off to a separate bowl…
Then scooped the broccoli out and added it to the pasta/tomato/mushroom mix. The broccoli might have cooked a little long – tasted okay – but some of the color was gone.
With the salmon in a bowl – I flaked it to bite-sized pieces. It really did taste better than it looked I swear!
Well the pan wasn't big enough so I put it in a big ass bowl that I have and just mixed it all together! There's the pasta/tomato/mushroom with the broccoli thrown in – then add the salmon. Next squeeze the other lemon half over it and then – the best part – the goat cheese. I just dumped the whole container of goat cheese in. It was small and I love goat cheese. I also threw in probably 1/4-1/3 cup of parmesan as well.
I had goat cheese in a pasta dish at The Palace – chef has changed and it's not on the menu anymore – but I loved it – so I decided to throw that in too.
Stir stir stir and voila – salmon & vegetable pasta with goat cheese.
The verdict? Well if you like goat cheese – it was really great. I love it – so I loved the dish. The boyfriend – well he's not as big a fan and thought it overwhelmed the dish too much. So depending on your level of goat cheese love – you might only use 1/2 container. If you do – add more parmesan and olive oil (when you're mixing it all together).
While it doesn't look too appetizing – it did taste good. And again – the boyfriend is not really a fan of vegetables and he said it was good. I ate the leftovers for lunch and it reheated well too.
Salmon & vegetables with pasta & goat cheese (I need a better name)…how about:
SALMON PASTA EXTRAVAGANZA!
1 bunch broccoli
4 salmon fillets
garlic salt, salt, pepper
2 T olive oil
1 tub button mushrooms, sliced
1/2 tub grape tomatoes, halved
1 T minced garlic
1/2 box of whole wheat thin spaghetti
1 lemon
1/3 cup parmesan cheese
1 container goat cheese (4 oz I think?)
(Need pasta pot, 2 skillets and a big ass bowl – lots of dishes after but it's worth it)
* Boil water for pasta – this takes a while so start it first
* Cut the broccoli tops and put in skillet. Add 1/2 inch water to the skillet (1/2 way up broccoli).
* Season the salmon fillets with garlic salt, salt and pepper. Lay them on top of the broccoli. Turn the heat to medium and bring to simmer. Simmer for 10-12 min until salmon is done. While it's cooking – squeeze 1/2 lemon over the salmon. Turn salmon after 5-6 min or so as well.
* When the water is boiling, add your pasta – follow box directions for cooking time.
* Meanwhile, add olive oil to hot skillet. Then add mushrooms, tomatoes & garlic. Saute for 8 min or so. Keep stirring…add a little more olive oil if necessary – tomatoes will start to break down a bit – it's all good.
* Transfer sauteed mushroom/tomato mixture to big bowl. Drain the pasta and add it to the mushroom/tomatoes.
* Remove salmon from skillet and put in separate bowl. Flake it to bite-sized pieces. Then add to the big bowl mix.
* Remove broccoli from skillet and add to the big bowl of goodness.
* Squeeze other 1/2 lemon over the mix. Add parmesan cheese and goat cheese.
* Stir and serve!
Tastes great with some crescent rolls on the side. There are lots of veggies in this and the always healthy salmon which was steamed. Really the only "bad" thing is the bit of olive oil and the goat cheese – so this dish is pretty healthy as well!
I just watched Julie & Julia last night so all I can say now is BON APPETIT!