I'm all about convenience that doesn't sacrifice quality – and I think I've found it in a couple of fairly new products!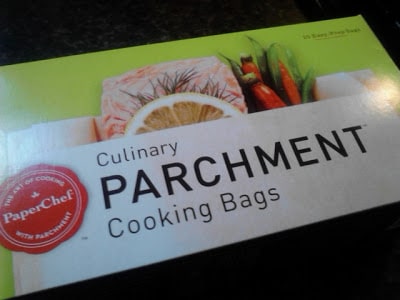 First up – the gracious folks at PaperChef provided me with a huge box of Parchment goodies – I'll be making more things from these folks in the weeks to come. (giveaway coming for you too!) I had paper, muffin cups, bags and more to sample! I started with the bags since I had salmon and veges to bake.
Cost: 10 count of bags – $3.27 (not bad!)
The competitor – everybody knows their name – Ziploc! I bought these myself…
The nice thing about the Ziploc version is really the quickness factor and the cooking instructions are on every bag. I have to say – that helped a lot! I was making salmon & asparagus for dinner – I didn't really feel comfortable microwaving $8 worth of salmon – so I just did the asparagus in the steam bag.
I guess to be a true cookoff – I should have tried it! I just wasn't brave enough – salmon is expensive.
Here's the salmon in the parchment bag. I just coated it with salt, pepper, rosemary and olive oil then laid the asparagus across the top. The bag was a little awkward to get the large piece of fish into – but there was ample room. You could have easily just cooked two bags so we could have each had our own.
And the after baking of the salmon & asparagus. I have to say – it was very appetizing! The parchment paper was a little crispy on the outside and I couldn't wait to dive in! The asparagus absorbed some of the olive oil and the salmon was cooked to perfection! I used the instructions on their website for time to cook salmon – I think it was 16 minutes.
Here was the Ziploc version of asparagus – steamed nicely and bright green. It was a little dry and next time I would add a touch of butter into the bag with the veggies.
Here's a pic of my healthy and delicious dinner! Steamed asparagus, wild rice and baked salmon. Deliciousness that I will be making again!!!
So – how about the cookoff? What did I think?
Ziploc – a little cheaper and more widely available, these bags were great with the instructions printed on every bag. I do think the veggies came out a little dry but would likely be better with a little butter added. The steaming is VERY quick in these as well.
PaperChef – very affordable – basically the same price and they are available at Kroger and Hy-Vee stores (Hy-Vee is my grocery store of choice back home in IA). I have to say I trust the parchment bags a little more with meat. Most likely – if I'm making fish again – I would use these.
So there you have it – an intro to two new products and real-life experience with both! Have you tried either? What did you think?
I can't wait to try cupcakes or muffins in the parchment cups! And when I do – you'll be able to enter a giveaway!