I'm back with the November Crazy Cooking Challenge which was Mashed Potatoes! The other option was stuffing – which I kind of wish had won because I have a great recipe – but I'm going to share that soon enough! Now it's time for taters!
I came across the
TasteFood blog
and found a recipe that combined sweet and red potatoes! My husband loves sweet potatoes and I love regular – so I thought it might be a good mash up #punintended.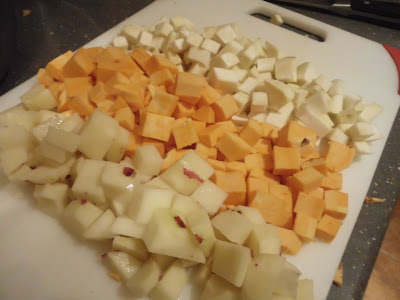 First you had to start with red potatoes, sweet potatoes and celery root. I had no idea wtf celery root was but luckily they had it at Meijer so I was good to go! When you cut it – it COMPLETELY smells like celery – it was very unique. The celery root is a lot harder than the potatoes so I made sure to chop it into smaller pieces than the potatoes.
After boiling the potatoes (with garlic) until soft, you drain and cool them a bit. I cooled them a bit too long because by the time they were mashed – they were a bit cool. Then I added sour cream, butter and salt. Mash mash mash – my arm was sore.
I then added the freshly grated Parmesan cheese and a little more salt – lots of tasting to make it perfect.
It might not be pretty – but it was tasty!! It also makes a LOT of potatoes!
I also came across a recipe for Pesto Baked Salmon – and it couldn't be easier! Foil + salmon + pesto = done!
So here was dinner – Pesto Baked Salmon and Sweet & Red Potato Mash! I really enjoyed both of them – although I cook the potatoes a little longer and possibly use a mixer to really whip those taters to get a little fluffier.
Recipes:
Sweet & Red Potato Mash
Whole milk Greek style yogurt adds body and creaminess without excess fat to the potatoes. If you prefer extra richness, substitute sour cream for the yogurt. Serves 4-6.
2 pounds red potatoes with skin, cut in 1 inch pieces
1 pound sweet potato, peeled, cut in 1 inch pieces
1/2 pound celery root (celeriac), peeled, cut in 1/2 inch pieces
4 garlic cloves, divided
Salt
3 tablespoons unsalted butter, room temperature
1 cup whole milk Greek yogurt or sour cream
1/3 cup finely grated Parmigiano cheese
Freshly ground black pepper
Sage leaves for garnish
Combine potatoes and celery root in a large pot. Peel and smash 3 garlic cloves. Add to the pot. Cover with cold water. Bring to a boil. Reduce heat, cover and simmer until potatoes are very soft. Drain. Return to pot and cool slightly. Mince the remaining garlic and add to the potatoes. Add butter and yogurt. Mash with a potato masher to desired consistency. Stir in cheese. Add salt and pepper to taste. Serve warm, garnished with chopped sage leaves.
Pesto Baked Salmon
1 pound salmon fillets
1/4 cup pesto – homemade or store bought
salt and pepper to taste
Preheat oven to 350 degrees. Line a baking sheet with foil.
Place the salmon skin side down on the foil. Season with salt and pepper and spread the pesto over the top of the fish.
Bake uncovered in the preheated oven for 7-10 minutes, depending on thickness. Be sure not to overcook to prevent dry salmon.
Remove from oven and using a spatula, lift off the salmon from the foil, leaving the skin on the baking sheet. Serve immediately.