I know I need to lose some weight. I just suck at it. And you know what – Abby Girl Sweets isn't going to help! They just opened in downtown Cincinnati a few blocks from where I work (next to Hilton). Argh! But um – yum too!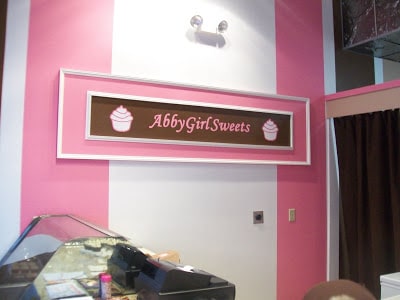 The decor is cute – I love pink & brown. My bedroom is this same color pink. It's like pepto bismol exploded and I love it.
There's a cute story too behind the stop too – Grandma works in the store and I think the actual Abby is her great-granddaughter (or granddaughter – not quite sure). Then Abby's mom & dad are the rest of the biz! Nathan is the baker and Andrea is the decorator. So not only is this local – it's all in the family – and that's just sweet.
The window has "cupcakes" galore but we're told you can't eat them. They're just made to look pretty.
There are a lot of wonderful options depending on the day you go: chocolate, vanilla, strawberry, carrot cake, banana, peanut butter, double trouble (like a hostess cupcake with filling & the white swirlies), red velvet, etc… They all look and smell great.
On my second visit (skipping ahead) I had to try the chocolate with vanilla buttercream shown above. It smelled soooooo good and just looked amazingly moist. And it was. The cupcake was really my favorite part and usually I'm an icing girl. The cake was so moist and chocolatey – it was bliss. The icing was fine – very buttercreamy but I kinda wished for more cupcake! That's just not like me!
On my first visit I tried their specialty – the Strawberry Delight – made with real strawberries. Again – the cupcake itself was delicious and moist and amazing. The icing was fine…but just like with my 2nd visit – the cake really got me!
Side note – friend tried the vanilla and said it was fine – but also said that my strawberry was much better. So I'd say – hit up the flavored cupcakes and for a change – pick the one with the LEAST amount of icing…
Cupcakes are $2.75 each or $2.50 if you buy 6 or more…they also have mini cupcakes and special flavors all the time.
Why Should You Go? It's downtown, it's a family-run business and you won't find a moister cupcake in all of Cincinnati!