So my amazing fiance suggested a date night a couple weeks ago and he was going to pick the place and everything. Fine by me – I need a night off from planning. He'd noticed the new restaurant at Kenwood Towne Centre and decided that was a good spot. Since this was for a Friday night – we did make reservations. Aroma was our destination!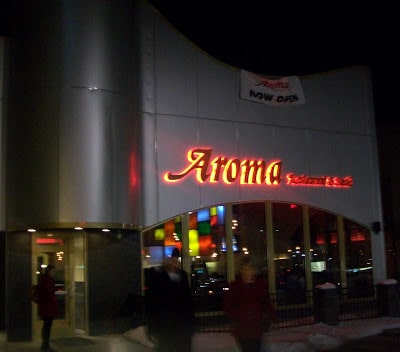 It's next to the new Nordstrom and honestly parking is a bear on that side of the mall. We ended up parking on the backside near the old Panera and going through the mall cuz it was cold. They could probably benefit from a valet.

It's very pretty inside – makes you feel "hip" – even though we know we're not. haha Tables had nice REAL flowers which is always a nice touch and overlooked many times.
Larry got a beer and the only thing we noted here was the glass was pretty funky looking! It would have been nice to have some bread served with our drinks. It's a pretty expensive place and I kind of expected it – so maybe that's something for the future.
For an appetizer we got the Vietnamese Chicken Roll ($8.95). We always have to be careful with the egg allergy but we were safe here. I'm so glad we went this route – it was DELICIOUS!
Larry discovered he loved peanut sauce (on the left) and I liked the spicy clearer sauce on the right. All in all – this was really a great appetizer! One of the best I've had – it was crispy on the outside and then full of wonderful things on the inside. Very unexpected and far superior to any old "egg roll" you might expect. Wasn't really sure what to do with the lettuce/mint but we wrapped it on the outside and that was good enough for us.
The only hitch here – they didn't bring us plates. I'm guessing it's just still new-opening tweaks…
Then – since it's Aroma Restaurant and Sushi – I figured I better try the sushi. I went for a Dragon Roll ($11.00) and aw…it looks like a dragon! It was fine – nothing amazing but I liked it. Larry even found he likes sushi as long as I marinate it in soy sauce for a few minutes first.
While I tried to talk him into the sea bass – he was pretty set on Salmon ($24.00) served with Bok Choy, Shitaki and Miso Beurre Blanc. It was good – cooked perfectly and filling. Not as good as the Halibut at York Street but not sure anything ever will be (of course that was slathered with spinach/artichoke goodness).
I couldn't resist my favorite Romy Jung dish – the Orechiette with Braised Lamb, Tomato Confit & Goat Cheese ($19.95). Chef Romy used to be at The Palace and Vito's and I follow him solely for this dish. Now the ever-fantastic Polly Campbell mentioned this was her least favorite dish because of the lack of goat cheese on her visit. So taking that into account – I asked for EXTRA because I do love the cheese de goat.
When my dish arrived – as you can see in the photo above – it was SANS GOAT! Well I was a little disappointed but quickly said "Um I asked for EXTRA not NONE?!" Thus…five hungry minutes later…
Oodles of goat cheese! I didn't even use it all – and that's saying something. Adding the goat cheese really makes the dish. It's sort of bland without it – the goat cheese adds a little twang to it and makes the sauce oh-so-creamy. I was in heaven!
I definitely wanted to try some of the other seafood dishes but I missed this dish so much I had to go for it.
Why Should You Go? It's an expensive date night – with drinks and a tip – we were at $100 or so – so for us it's definitely "special occasion". It was really nice and although the tables are close together we definitely felt it was still cozy and private. They have a lunch menu – but prices are the same pretty much – so you're not going to save any money anytime. But if you want a nice night out – give it a whirl.