My girlfriends and I get together once every couple of months for craft day – this time we decided to make a spring wreath! The first step for me was that I pinned a bunch of different wreath ideas to my
DIY Pinterest board
– check them out!
The plan was we would each choose a wreath and then meet up at Michaels to buy the supplies – Rachel was on the plan. Danielle and I met up there and sort of combined plans from a few different wreaths and made up ones of our own.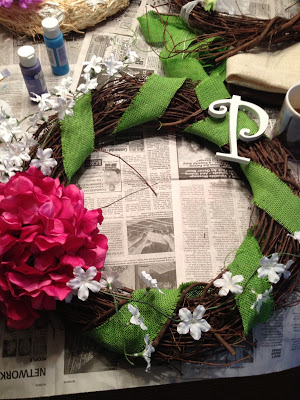 Here is Danielle's finished project – we really had fun picking out flowers and going back and forth between the foam and the willow wreaths but I like how it turned out. It's very Danielle – looks organic.
Rachel's project – well it had a few more bumps in the road. There are supposed to be painted styrofoam balls but the paint wasn't covering them…
Hers had polka dots stamped on a hay-type wreath. Then she was going to attach the flowers and the balls. Because of the paint issue – she had to take hers home to complete.
And here's her finished wreath!
I went for the oval willow wreath and big daisies! It's funny – normally I'm all pink – but I've been in more of a blue mood lately. I wrapped a little fabric around it as well and popped the heads off the flowers and glued them to the wreath. Then I picked up the initial J – the font I liked was only in black – so I decided to paint it with blue glitter paint. Then Danielle had some ribbon that she tied into a bow and I added a cute little bird to the top.
I'm really happy with how it turned out! And – it was only $13!!! I was looking around at pre-made wreaths in the store and they were a minimum of $30 – so $13 was a bargain!
Our craft day was AGAIN a success! We're already planning our next one…what will we do next?
DIY Wreath
Supplies Needed:
wooden initials
craft paint
Your Imagination!