We were recently called upon to puppy sit – which is so much fun!!!! Rachel and Kevin were out of town enjoying Keeneland and we were on dog duty!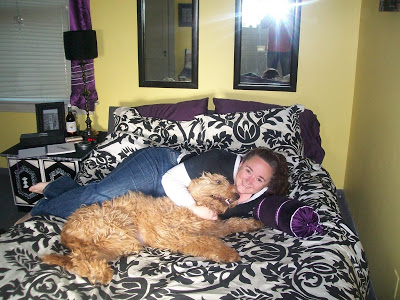 This is me and Bebe – she's their new Golden Doodle. It's like Alf and Fozzie Bear had a baby – and I so wish I could take credit for that analogy – but it's all Rachel. Click on the picture and see it larger – she is so damn cute!
We were starving and decided that we wanted pizza…so we headed down the street to downtown Reading and found Angilo's! They have 30+ locations in Cincinnati. This is a tiny one but we stopped and ordered and then hung around while it cooked.
The pizza was really really good. We definitely took that thing apart!!! And there was enough leftover for breakfast the next day!
We also got breadsticks…didn't love them as much. They were fine – but nothing magical. We didn't finish them and didn't save them either.
Why Should You Go? They always have coupons in the Reach Magazine (sign up for their "big deal" emails – great deals right to your email). The pizza is really good – far better than the other chain pizza places. They also have sandwiches and appetizers.