I can't believe the other bloggers haven't reviewed this yet but I'm glad to be the first. Silverton Cafe on Montgomery Road is one of my favorite sandwich stops. It's also a fun bar to go to for games or live music.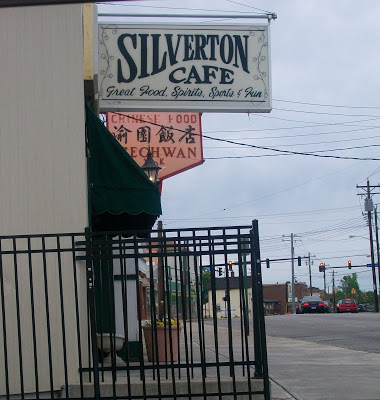 It's surprisingly large on the inside…the parking is across the street in the China Food lot. Inside there are arcade games and a ton of tables & booths.
We were starving and got some wings (10 for $6) to start. Larry's a fan of boneless – I like bone-in wings. I guess I'm never sure – are boneless wings just chicken nuggets with sauce?
Larry got the corned beef & swiss ($5.25) and was really impressed! I knew it was awesome but he wasn't so sure it would be…always believe me!
I got #32 Chicken Salad & Bacon ($5.50) – I always get the #32. It's just awesome. Love Love Love.
I never bother with fries – it comes with chips and their sandwiches are big so I rarely even eat those.
They also have this classic bowling game and other stuff that's fun for the kids to play on. It's definitely family-friendly even though it's a "bar" as well as a cafe.
Why Should You Go? Really great double-deckers, very friendly and quick service, plus it's fun on the weekends!