Something you may not know about me – I've been doing stand up comedy on the side for about 5 years now…it's one of the first things I did in Cincinnati. I took a class at the Funny Bone on the Levee from Jeff Jenna. He's a great teacher (plug plug plug).
Since then I've been doing charity shows a few times a year and one of my favorites is run by Gene Sell and it's for a variety of GLBT charities in the Cincinnati area. This week was the big annual fundraiser and I think this year was for the Gay & Lesbian Community Center of Cincinnati. It always features a host of Drag Queens and comedians. I love participating in this show – it's always a full house and always lots of fun.
This year's show was at the Syndicate in Newport. If you have an event and you need a venue – this place is nice! Big nice bar, great huge cheap parking lot across the street, wait staff that will come to the tables, big stage, etc…
The Syndicate also has food – although the menu is fairly hidden on their website.
For the show – they had a limited menu of 5 items all priced at $8 each – which was a good deal. Drinks were $2 for a soda and didn't have free refills (really?). Service was excellent – our waitress was on top of everything!
My pictures aren't the best – it was a little dark and it's hard to tell if they're in good focus in the dark…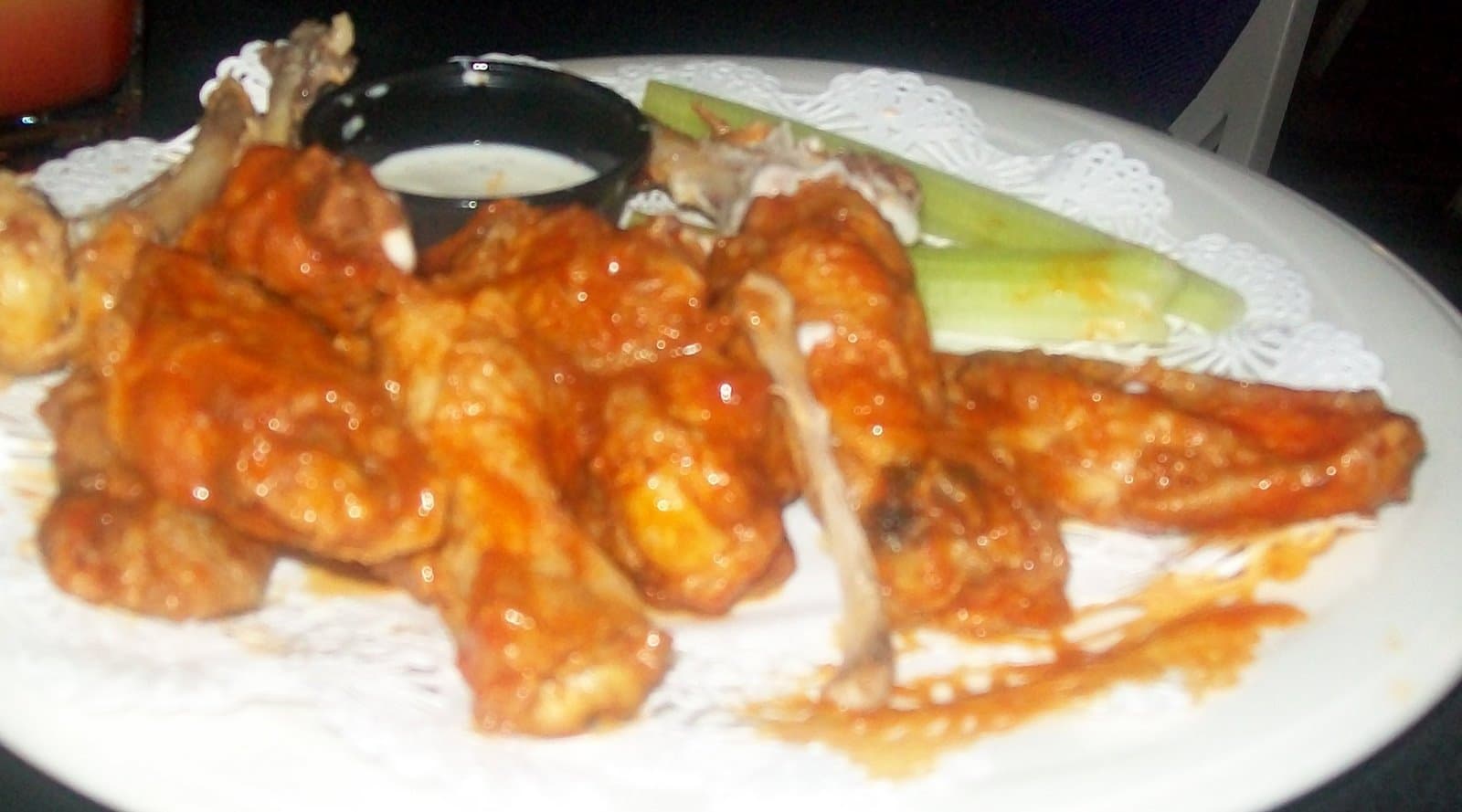 The wings – it was 12 wings for $8 and they were good sized. One friend was very happy – it was very very filling. They were spicy… My other friend didn't like the sauce – but she's a picky one.
I opted for the "Say Cheese" which was a smattering of cheese-related items. I had fried cheese, cheese filled 'shrooms and cheese puffs with a side of marinara.
The marinara was cold…all of the items were pretty good I'd say. Nothing outstanding – nothing terrible. Why serve it on a doily? Are they not washing the plate after?
Ahh…Linda Gambino ordered the "Big Balls" – of course she did! The balls were big…the pasta and marinara accompanying them – not so much. Surprised it wasn't spaghetti and there wasn't much sauce. Linda said the balls were okay but admitted she's Italian and it takes a lot to impress her when it comes to balls. (I know – just opening the door for her comments).
Ahhh – a blissfully happy couple that joined in the fun to watch me perform. Neither is gay, lesbian, drag queen or comedian – although Craig did wear his sparkly shirt.
They ordered the skins…I have to say – they look a little sad.
And now – onto the entertainment – only a couple of pics as I was distracted by having to actualy perform! The straight waiters from Brio performed three numbers – 2 of them were topless. This made the crowd VERY HAPPY.
And here's me with a Drag Queen from the evening. She's much taller – she was practically on her knees in this shot (again – open to the peanut gallery). I don't know her name even though I see her at every show! Anybody know?
On the whole – it was a great night and $10,000 was raised for charity!
The food – eh – it was okay. I don't think it's probably a great representation of them in a normal dinner setting so I won't fault them. But with all the places I want to try – not sure I'll run back. But – if I need a place to host an event – I'm there!