Larry and I both have fairly small families so sometimes the holidays really aren't that big of a deal…Easter was one of those this year. Families were busy, we were tired, it just didn't happen. About mid-afternoon we realized we were hungry and the kitchen was bare – so off we went!
Not much is open but we did find that Longhorn Steakhouse in Rookwood was open. So in we went!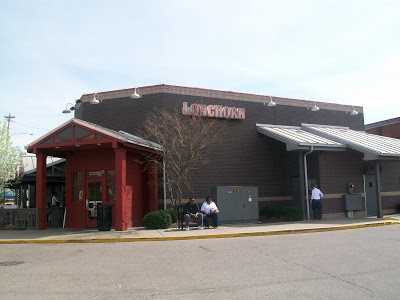 I've eaten here before but never had my camera with me so we decided what the heck – might as well take some pics.
We weren't really all that hungry – so we decided on starters.
Larry got the boneless wings ($7.49) and they were spicy!!!! A bit too spicy for me and greasy but not too bad. It's definitely a big serving as well…
I got these Firecracker Chicken Wraps ($7.99). They were pretty darned good – the sauce is an avocado lime sauce and it was basically on top of a nice salad. It was a perfect late lunch for both of us.
And yeah – the ranch is good.
Why Should You Go? Well – it's an affordable steakhouse in Hyde Park – pretty much the only one. Is it amazing? Well no – but it's fine. Nothing great – nothing terrible. It's on par with the rest of the chains (Texas Roadhouse, Outback, etc…).