I've been digging into eMeals.com meal planning service on a regular basis – on the weekend – I check out the recipes and pick out 2-3 that seem easy and simple enough for a busy weeknight dinner. I came across Beefy Baked Nachos and knew I had one to try.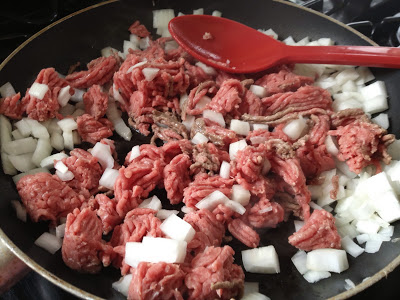 It's very simple and really basic – but one of those things – just to see it all together – made sense. Cook up hamburger and onion.
Spread a can of refried beans in a baking dish…
Top with ground beef & onion mixture…I threw in a half-packet of taco seasoning I had as well…
Cover with taco sauce – I like Ortega – I think it has a great almost sweet flavor.
Top with cheese…
And bake! I even popped the broiler on for a few minutes…
The fur kids were ready for dinner to be ready!
I just ended up eating it with chips like this – and some sour cream. We didn't have a tomato and Larry doesn't like onion. All in all – this was fine – it would be good for a party but I'd have less time on the broiler – the cheese was hard to cut with just a fork. I didn't love this one but it was simple and lasted a few days for lunches and snacks.
prep 15 m
cook 30 m
Ingredients
* 1 1/4 lb extra lean ground beef
* 1 onion, chopped
* 16 oz can fat free refried beans
* 4 oz can chopped green chiles
* 7 oz pkg shredded 2% cheddar cheese
* 8 oz jar taco sauce
* 1 cup fat free sour cream
* 1 tomato, chopped
* 3 green onions, chopped
* 1 bag baked tortilla chips
Instructions
1. cook ground beef & onion in large skillet over medium heat until beef is browned & crumbly; drain
2. preheat oven to 400; spray a 2 qt baking dish w nonstick cooking spray
3. layer beans, beef mixture, chiles, cheese and taco sauce in pan
4. bake for 25-30 min or until heated through
5. top with sour cream, chopped tomato and green onions
6. serve with baked tortilla chips