My hubby's family is up in the Fairfield/Hamilton area so we're getting quite familiar with the drive and Route 4 (which I love!). On the first snow of 2010 – we headed up for a visit but needed to get some lunch first. Larry took me to Rick's Tavern & Grille – which was one of his favorites when he lived up there.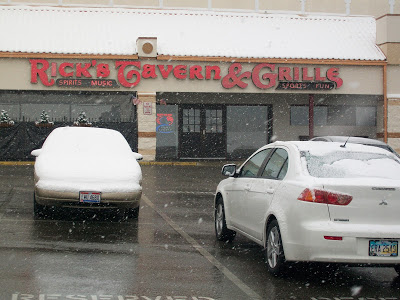 It's your average bar & grill – lots of tvs and I guess they have a dance floor area at night. It was crappy weather so it wasn't too busy but the staff was ready and waiting for us.
First I ordered a cup of the white chicken chili (picture wouldn't upload – argh). It was delicious!!! ($3.99) I was freezing cold from the snow and this was a great way to warm up. There was a lot of flavor and the tortilla strips were a great crunch addition. I definitely would get this again!
I was in an odd mood and got the grilled cheese with bacon ($6.29) – it was just a grilled cheese kind of day. This was great as usual. I'm not much of a fan of the cheap chips that a lot of places provide – but the soup had me pretty full so I just ignored them for the most part. The pickle was huge and very tasty too.
Larry went for the turkey club ($6.29) and it looked fine. I never think club sandwiches have much flavor so I avoid them at all costs. But the husband was happy and that's all a girl can ask for!
Why Should You Go? While it's nothing earth-shattering – if you're in the area – it's a good stop. The food is good and the staff is friendly. I do hear it's hoppin on Friday & Saturday nights if you're up there and looking for that as well.