My friends and I were all excited to go to York St. Cafe on Monday before heading to see the Hangover – yes I went 2 days in a row. We got there – closed on Mondays…Argh!
So we headed a few blocks towards the Levee and came across Newport Pizza Company – I'd heard a few things about this and thought we should check it out!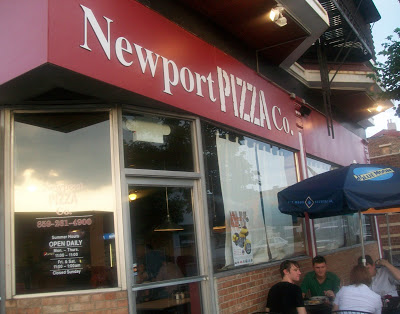 It's on the corner on Monmouth and has a small outside seating area as well as about 10 tables inside.
Scott wasn't fond of having his picture taken and kept pushing away the camera and it turned out to be a cool picture!
We ordered a salad and planned on splitting it between the 3 of us. Here's the bone of contention for the evening. The house/caesar salads were approx. $3 each (they don't have a website so I can't look up menu). The server said the other salads were much larger – they were also $6.50 or more so we figured they would be bigger. Well they aren't – we saw our BLT salad and the other's house/caesar – all the same size – yet this was twice the price. It's some lettuce people – good God!
The salad tasted fine but if I'd paid that and thought it was an entree salad – I would have been even more peeved! FYI that's a small probably 6″ plate – just for reference.

Now they do have good beers – these are a couple of fancy pants beers that were about $10/bottle but the bottles had probably 3 glasses in each. I think they were both Belgian beers – the boys were very happy. The one on the left has double the alcohol…just fyi.
Finally – the 'za – we got the Monmouth – basically the "combo". Sausage (very good – like really great), pepperoni, mushrooms, green peppers, onions, bacon, etc…
It's a thinner crust but still not the super crispy thin crust that is my favorite. It was far superior to that of Chi-nnati's from last weekend.
My Dad used to put LOTS of sauce on pizzas and I miss that – it's used so sparingly I don't really remember it. Overall it was a good pizza pie. Probably on par with Deweys – (but not in the salad dept). I like Dewey's unique choices more than the standards…but for a standard this was good.
They also had sandwiches on the menu but we were all in a pizza mood. We got the 16″ and we ate all of it with 3 people (they also have a 12″ – that's what she said – dammit – sorry – just watched the office.)
I'm still searching for my favorite pizza – I think my two favorites of all time are probably Godfather's Combo – fond memories of it as a child – remember the dude in the commercials? And my other favorite: Pagliai's where I went to college – my best friend and I would get 1/2 pepperoni/green pepper and 1/2 sausage/mushroom. Ahhhhh.
What's your favorite pizza?