On one of our many day trips – we needed sustenance in the form of breakfast food. We tried the Echo (which we got to the next day) but that was far too long of a wait – so we headed over to the Riverside Centre Antique Mall on Kellogg (Columbia Tusculum area). Now why am I going to an antique mall for breakfast?
Well – cuz they have a restaurant! It's the Kellogg Country House according to the website (although I couldn't really see a sign that said that).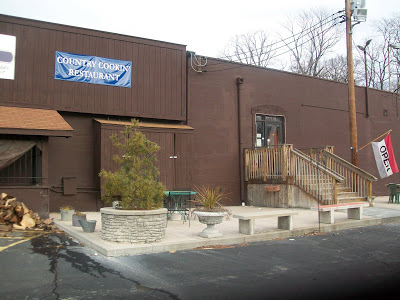 There's a spinny sign that showcases their $3.99 breakfast near the street. There's also a separate door for the Antique Mall portion to the left of this photo – but it's all joined together.
BF was a little nervous – though it was going to be another one of my "dirty places" that I like to take him but he was surprised by the inside. It's very cozy and has a pretty inviting atmosphere.
Also – the website has a link to their private banquet room – it was really nice. The fire was going and it's newer than the rest of the rooms. I'd definitely hold a party there!
We were there for breakfast – I have my favorite places but always think – well maybe that other place is going to be better? BF got his standard sausage gravy & biscuits.
Honestly – not near as good as Bluebird. The gravy wasn't very creamy – like it had water or chicken broth rather than milk for part of it. The sausage patties were okay. The biscuits – again – just ok.
🙁
I got the special which was all the stuff you see above. The waffle was pretty good, egg fine, toast fine. But the bacon was DELICIOUS! There is something about that bacon – it had a very unique flavor – and I sure can't tell you what it is – but it's good.
They also sere lunch & dinner. The staff, while friendly, is very blunt. One waitress annoyed the other (all jokingly) and they started going at it a bit. So just be prepared for that…it wasn't over the top or annoying – but it was interesting
Why Should You Go? If you're over that way and looking for a quick, cheap, home-cooked breakfast – go for it. Or if you have a mother that loves antiques like I do…the mall is pretty interesting for a walk-through.