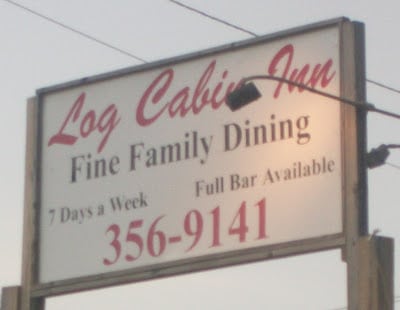 My friend Lou and I are always in search of new places in Northern Kentucky for dinner. One day we literally stumbled across the Log Cabin Inn. It's a big old Log Cabin…yeah…really!
I told ya!
Your entrees start with a salad – served on cold metal plates with good old iceberg lettuce and some good thick honey mustard! (I think that's what it is – might have been Thousand Island) It's not a fancy salad but it's not a fancy place.
Lou got a steak with a side of pinto beans. She was very pleased – she likes her steak dead and burned! I can't fathom eating it – but she liked it. She wasn't a fan of the pinto beans – I tried them – there was a bit of an after taste.
I got a NY strip with onion rings. The steak was medium rare and cooked perfectly. The onion rings were pretty good – a couple weren't done all the way but for the most part – very good. The roll is served cold and pretty bland. Also – the steak was $11.99 – what a deal!
The BF came along too – he got his "usual" for restaurants these days – a steak hoagie. He liked it just fine. I tasted – I'm not sure what exactly kind of "steak" is on a steak hoagie. This isn't just at Log Cabin Inn but in general – what is it? It's more like an oblong shaped burger. Anybody know? Can you tell me?
Well anyway – he liked it.
Overall – the Log Cabin Inn isn't amazing but it's good solid food. They have specials, they have good steak and it's a very casual place. The interior is pretty dark and I think it's the kind of place that has regulars. And by regulars, I mean the same old people go at 430 every Tuesday afer bingo.
But I love it – it's one of my favorite places to go – and I really have no idea why!
And just for my all my anonymous readers – and you know who you are – I only had 3 exclamation points in this review. Until now!!!!!!!!!!!!!!!!!!!!!!!!!!!!!!!!!!!!!!!!!!!!!!!!!!!!!!!!!!!
I just saw Kathy Griffin Friday night – and she's inspired me to tell those folks – SUCK IT!
Hahaha – that's seriously only for the exclamation point police that read my blog. The rest of you – you rock!