First let me say – this post has nothing to do with food – but hey – once in a while it's allowed.
After 36 years I can confidently say I've met THE ONE. We met in June 2009 and have been practically inseparable ever since. It's odd to say but I honestly knew the moment I saw him. It started out with "I have GOT to talk to him" and turned into "I'm gonna marry this guy!"
Here's an early pic from my birthday last summer…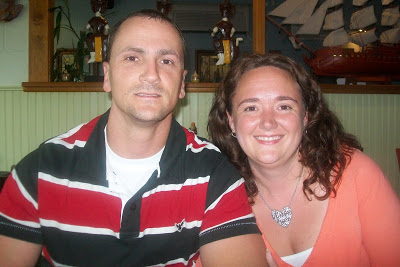 It was a very good birthday – I'll turn 36 again anyday!
Here's the ring! Cuz every woman knows – that's the best part of getting engaged! This is actually an antique ring that I found at Richter & Phillips downtown. KUDOS to Bill at R&P – he was the best guy EVER to work with on a ring. He treated us as though we were the biggest spenders he'd ever worked with! Excellent service!
The ring was a mess when I discovered it – but Bill got it all cleaned and we got a gorgeous pink sapphire for it. I love my ring and am thrilled that I get to wear it for the rest of my life!
The only thing better than the ring is knowing I get to be with this guy for the rest of my life as well. I never had a Christmas tree cuz of my cats – they're rotten and I figured they'd wreak havoc on it. But he convinced me – and sure enough – the Christmas Tree lived through the holidays (Biggie got a few squirts with a spray bottle – I have to say).
So yes – it had nothing to do with food – but I had to share my happy news. Wheeeee!