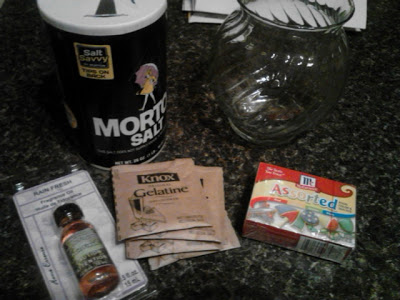 First I had to get all the supplies:
Food coloring (grocery store – $3 for 4 colors)
Essential Oils (Michaels/Meijer – $1 each)
Knox Gelatine (grocery – 4 packets in a box – a couple bucks)
Table Salt (on hand – keeps it from molding!)
Water (in the faucet – duh)
Jars (Michaels – 99 cents each)
You put a few drops of food coloring and a dribble of essential oils in the jar.
Boil a cup of water on the stove
Stir in 4 packets of gelatin and whisk until dissolved
Pour in 1 cup of COLD water and 1 Tbsp salt
Quickly poor the mixture into your jar
I made one in blue for Larry's Indianapolis Colts basement man cave…
…and one in orange/yellow for the bathroom upstairs!
I really loved this project – it was soooo quick and easy – plus really useful! It's been a few weeks and it still smells fresh in the bathroom! I think it's better for a small space and if I had it to do again – I'd do a double batch. Luckily I'd bought enough gelatin to do this one twice for both jars.
Have you tried any Pinterest projects lately? I'd love to find some new DIY stuff to make!